HiBy RS6 is a music player, which is the advanced version of R6. It uses a new Darwin architecture to provide rich playability to listeners worldwide.

HiBy launched the advanced version of its famous music product R6, i.e., RS6 – Darwin R2r Portable HiFi Music Player, which uses a new Darwin architecture to provide rich playability to listeners worldwide.
Hiby Music is credited with launching a wide range of HiFi music players like RS8, R5, RS2, etc. The new HiFi music player RS6 will be using the Darwin architecture. With a mature and familiar external design, RS6 is available in all copper shells, champagne gold, and bright fold (limited edition) colors. Its high-resolution large 5-inch 1080p display will make music listeners fall in love with it worldwide.
As evident, the Darwin architecture is a brand-new high-resolution digital signal processing architecture that HiBy created internally. In a ground-breaking extension of the conventional R2R design, the system incorporates resistor ladder linearity correction and, for the first time, advanced features like switchable oversampling/NOS, linear FIR filter, nonlinear harmonics control, and DSD bypass on portable equipment are also included. The end-to-end adaptable design is entirely configurable, opening up countless opportunities for ongoing expansion and future enhancements.
This new architecture will also provide a 16X oversampling, thanks to several selectable filter types designed to preserve linear phase and reproduce the original sound, adapt to different earphone characteristics with customizable features, and ensure adaptability to different earphones of different designs and driver configurations. It also enables it to provide 8.5 hours of continuous playtime and a 25 days standby time. For fast charging, a quick Charge QC3.0 for charging power of up to 18W is also provided inside the package.
In fact, in order to create the final product, RS6, HiBy collaborated with 10 professional HiFi brands, both inside and outside of China, to acquire their sound tuning specialists to adjust the Darwin architecture's numerous hardware settings to match the characteristics of each brand's earphones. Full of musicality, vibrant and natural, the R2R-based amplification stage brings performers and music to life onstage in an immersive experience. Now, users can finally enjoy full convenience by fully controlling their RS6 from the HiBy Music player app on their smartphone, remotely controlling playback, volume control, playlist management, and doing a lot more.
Combining RS6 with Darwin architecture's special harmonics management system in HIFI music players will result in a more soothing, natural listening experience, decreasing the nonlinearity brought on by resistor resistance mismatch in the R2R network. It's NOS mode avoids antialiasing and oversampling, responding instantly to transients and stair-steps and converting to analog in the most unprocessed and unfiltered way possible. Its oversampling mode removes aliasing artifacts, enables all functions of the Darwin architecture, realizes personalized adjustments of sound signature, and adapts to different earphones.
Speaking about their new launch, one of the key spokespersons for the company exclaims, "Native DSD decoding on an R2R system is no longer an oxymoron thanks to distinct LPFs for PCM and DSD. The delta-sigma modulation method generates HF noise, which the DSD-specific LPF efficiently reduces to enhance DSD audio reproduction. The two crystal oscillators for the 44. 1xkHz and 48xkHz families are clocked at 45. 158MHz and 49. 152MHz respectively with subatomic precision down to – 140dBc/Hz @1kHz, DSD256 enabling 768kHz and DSD256 decoding at down to 0.003% / – 115dB THD."
He continues, "With the help of the highly developed and high-performing Snapdragon 660, along with fast LPDDR4 RAM and eMMC storage, demanding multithreaded computations (audio or otherwise) may be completed in a flash. Finally, a discrete current-mode amplification method using 1x and 2x OPA1612 is constructed, providing plenty of currents for the output stage to attain excellent dynamic and transient response. It is then connected to four OPA1622 opamps of the highest performance, creating 8 separate channels for headphone amplification that are ganged 2 by 2 in parallel. Each channel consists of voltage and current amplification stages. Best of all, everything is controlled by a professional NJW1195A digital volume controller for optimal control and ideal circuit dynamics at all times. Now, you can control your player from just your smartphone!"
RS6 is available with a 14nm LPP process, 8-core Kryo 260 architecture, 2.2GHz, Adreno 512 GPU, 4GB LPDDR4 RAM, 64GB storage, and a micro SD slot, making it a complete package. The system architecture for HiFi music player created in-house by HiBy and optimized from the ground up for audio processing is known as the HiBy OS. The new HiBy system now supports advanced audio features like USB audio input and output, wireless audio input and output, and systemwide audio effects. It has also been updated to work with the Android 9 OS. 
The Direct Transport Architecture is well recognized for getting around Android's integrated headphone output's original requirement that sample rates be converted. With USB audio now supported, DTA may also avoid sample rate conversion for third-party programs, enabling bit-perfect output from virtually any software to any place.
The sound of the original studio master is captured and reproduced by the award-winning MQA technology in a file that is tiny enough to stream and download. HiFi music player also works closely with MQA to provide listeners with real original sound quality. Due to the SoC's powerful processing capabilities, it is now possible to reproduce the original master tape using ever-smaller source files and an astounding 16x unfolding of MQA data. 
RS6 also supports a wide range of Bluetooth codecs, such as UAT, LDAC, aptX, aptX HD, AAC, SBC, etc., as well as both Bluetooth audio transmission and Bluetooth audio reception at the Bluetooth 5 standard level. The PCB's digital and analog components are separated from one another to prevent interference using copper-nickel-zinc shielding in this new music player.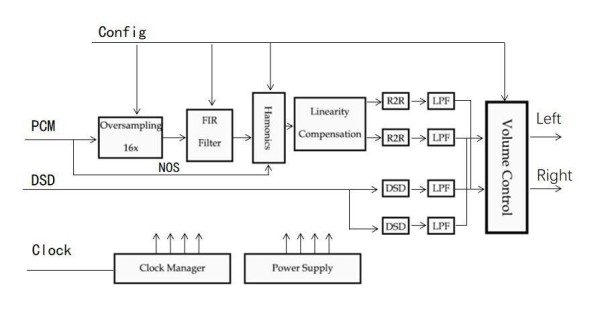 The entire board is additionally shielded from outside interference by a faraday cage.
Hiby RS6—Darwin R2R Portable HiFi Music Player truly delivers the best of both worlds, a record player that is as intelligent as a supercomputer yet shielded from its problems, making it the most customizable DAP of the year 2022.