For today's article, we review the new HiBy RS2 which is an entry-level R2R DAP featuring the company's proprietary Darwin architecture. It is priced at $479.
Disclaimer: This is a sample sent to us in exchange for our honest opinion. Headfonics is an independent website with no affiliate links. We thank HiBy Music for this opportunity. 
You can click here to learn more about HiBy products that we have previously covered on our website.
Note, that this feature follows our latest scoring guidelines which you can read here.
Back in late 2020, HiBy launched the original R2 which was the most affordable DAP option in their extensive lineup and a continuation of their popular micro form factor first seen on the R3 Series.
Well, they are back now with the RS2 but for those thinking it's a tweak of the original R2 then think again.
This is a totally different proposition incorporating a lot of HiBy's latest developments including their innovative Darwin Architecture that debuted on the RS6. It is also an R2R DAP and possibly the cheapest one in the market today at $479.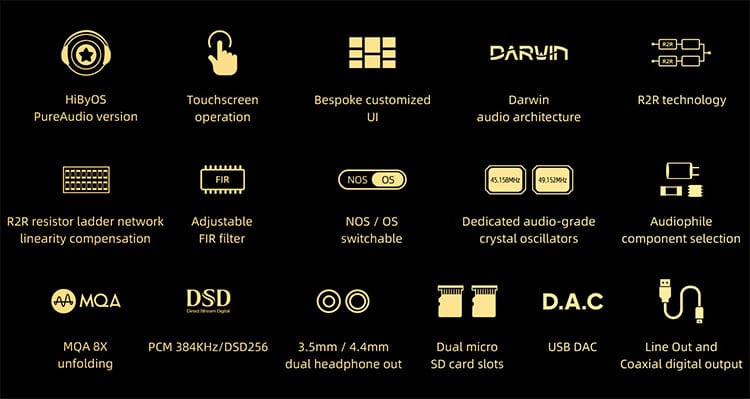 TECH HIGHLIGHTS
DARWIN ARCHITECTURE
Drawn from the Darwin Architecture first seen on the RS6, the diminutive RS2 is packed full of features normally seen on higher-end DAPs. Given the R2R discrete engineering approach, that means the features are all controllable in-house rather than bought off the shelf with a mix of software and hardware tweaks.
This includes linearity compensation for the R2R array, a 256-tap adjustable FIR filter, a harmonic controller, as well as NOS and OS options, and the ability to oversample at a 16X rate when required.  
HIBY OS
The RS2 rides on HiBy's customized PureAudio version HiBy OS and enjoys a "cleaner" audio pathway on the system level, compared to Android which requires SRC bypass and components to support wireless functions.
I consider the simplified configuration on the RS2 to be a smart move when there are more power constraints. In this case, a lightweight OS would allow better allocation of power and by not including some wireless functions more space, power can be saved as well as reducing noise from the corresponding components.
DECODING
For codecs, the RS2 supports up to 32BIT/PCM384kHz.
.....