In this article, we review the HiBy FC4, a new DAC/AMP dongle, available for just $89,99 USD.
Disclaimer: HiBy FC4 was sent to us, free of charge, by the brand in exchange for our honest opinion. 
About HiBy
Founded in 2011, HiBy Music has become one of the most prominent figures in the audio industry. They first began with an audio player app – the HiByMusic Player – which quickly became one of the most popular solutions for audiophiles using android players. So much that brands like Cayin or Hidizs even switched to HiBy for their own player – see the AP80 Pro-X for example. 
On top of that, nowadays HiBy also has a full range of players – like the R8 and RS6 – IEMs – such as the Crystal 6, WH2, and Lasya – and DAC/AMP, all embedding the brand's own FPGA-based audio processing chips.
And today, we have the new HiBy FC4: a dual-chip portable USB-DAC, made to compete with the FiiO KA3 and iBasso's DC06. The great contender? Time to know!
Design & Build Quality
Casing
Small and sexy, the HiBy FC4 takes a very different approach when compared to the KA3 or the DC06. When the two others favor a bulky design with visible thermal fins, the FC4 has a much sleeker approach, while retaining the all-metal body. 
Entirely made of aluminum, the HiBy FC4 looks and feels higher-end than its real price – much like the Hidizs S9 Pro – and from afar, you could easily mistake the DAC for a crypto premium USB-Key. Size-wise, the FC4 is 65.3 mm long, 22.1 mm wide, and 11.9 mm thick, and only weighs 21,7g. To those measurements, you can add the USB-C / 8-Pin cable, allowing you to connect your digital sources, like a smartphone, a computer, or a DAP. 
Thanks to that, the DAC can easily be carried in a jean pocket, a jacket, or simply stick to your phone if you're ok with QI-wireless charging.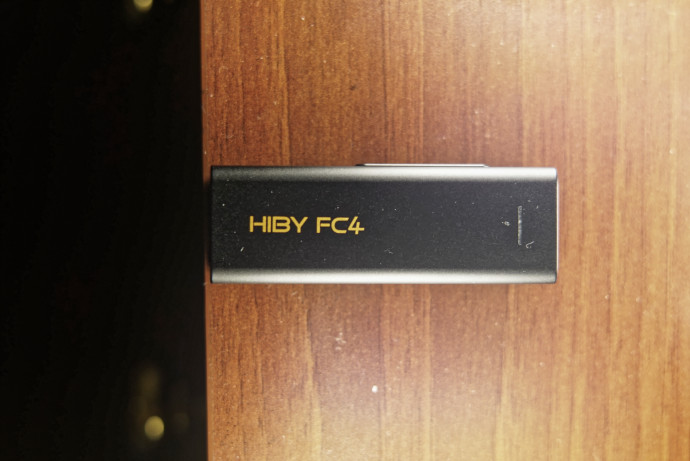 Build Quality
Like every product released by the brand, the HiBy FC4 is absolutely flawless in this regard. Black anodized aluminum, Bauhaus design, single-body built, and an exquisite LED light indicating the stream quality while you play your music. Add to that hardware volume buttons, and this DAC finally outmatch the NuPrime Hi-mDAC in my personal ranking.
It feels premium on and out, and for whoever wants a flawless device, with its matte-black tubular frame, but the FC4 is approximately four times cheaper, and doesn't look four times worse…
All in all, it's a very solid piece of work, and I can't say bad things about the FC4 in this regard.
......