This is a review of the new HiBy R5 Gen 2 Android DAP which features a discreet output stage, a Class A amplifier, and dual ES9219C DACs. It is priced at $449.
Disclaimer: This is a sample sent to us in exchange for our honest opinion. Headfonics is an independent website with no affiliate links or status. We thank HiBy Music for this opportunity. 
To learn more about HiBy products that we have previously featured on our website you can click here.
Note, that this article follows our latest scoring guidelines which you can read up on here.
The Sub-$500 DAP market has been ravaged by dongles over the last year or two. If you want to catch the eye with a new budget DAP launch you need to bring something very new to the table.
HiBy has never been one to shy away from taking risks with initially their excellent software offerings and in recent years some standout DAP features such as their recent R2R/Darwin architecture in the RS6.
The R5 Gen 2, however, could quite well be their most ambitious offering to date despite its modest price. It's nothing like the original R5 from a few years back and in fact, it focuses on the one thing most thought the company was initially a bit weak on, quality amplification.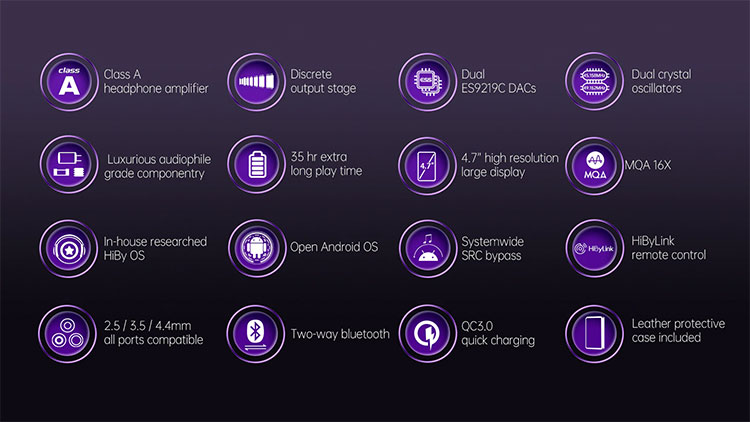 TECH HIGHLIGHTS
AMPLIFIER
And it is on the amp side that we will start the introductions. The R5 Gen 2 amplifier topology has not one, but two operational modes for its analog output.
If you think you have come across this type of design before then you are not wrong. For example, both the Cayin's N3PRO DAP and the C9 portable amplifier offer similar hot switching operational modes between a Class A and a Class AB.
However, HiBy's version is slightly different. True enough there is what is called an economy mode which is the default mode when you power it on. This is SoC driven from the DAC chipset and likely a much simpler build for someone like HiBy.
However, since the R5 Gen 2 has a quasi 'dual' operational mode you can hot-swap via the OS to Class A which in this case is a discreet resistor-based push/pull design. The choice of push/pull is an interesting one but I presume it is using a combinational transistor pair called in a Push-Pull configuration to greatly enhance efficiency in such a small package.
It should also help in pushing the output to the max at the same time with the numbers below going some way to proving that with a nice bump in voltage headroom and maximum output power.