The HiBy FC3 is a compact USB DAC/amplifier dongle capable of DSD128 and MQA decoding, as well as up to 70mW of output power. It is priced at $69.
Disclaimer: The HiBy FC3 was sent to us as a sample in exchange for our honest opinion in this review. We thank HiBy Music for this opportunity. 
To learn more about HiBy reviews on Headfonics you can click here.
Note, this review follows our new scoring guidelines for 2021 which you can read up on here.
Micro DAC dongles are coming at us fast. The tech is cool and somewhat still a mystery to me on how they pack so much technology and features in such a small device and it is quite amazing they could make something so small while still capable of producing the quality audio some of these micro DACs are capable of.
I have several micro DAC dongles and each one has its particular good points, some more than others. They all do the same basic job of taking a raw USB signal off a phone or a laptop and the internal DACs convert the signal to analog to then amplify the signal enough to power up headphones.
The Hiby FC3 does just that and it came in recently for review, The FC3 micro DAC dongle has some of its own unique features and points of interest.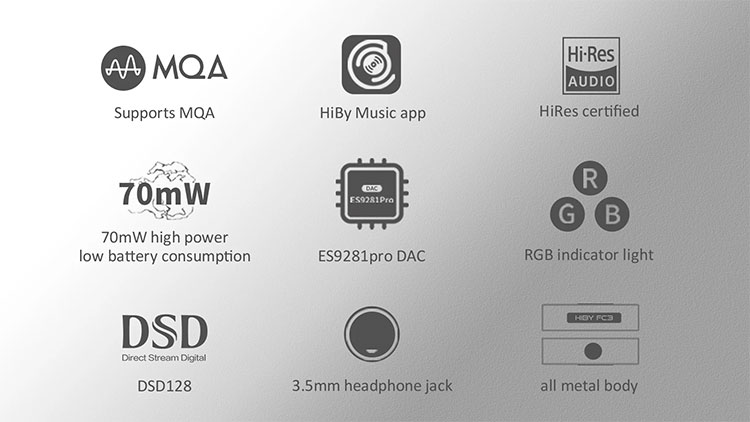 TECH HIGHLIGHTS
The Hiby FC3 is a USB-powered micro DAC headphone amplifier dongle device capable of taking the raw digital audio signal from any PC, laptop USB port, or most phones equipped with a USB-C OTG compatible device and converting the signal to an analog headphone output.
Among the micro-DACs that I own this is the only one with a physical 2 sided rocker-type volume control which upon operating one could tell for certain it operates the volume in the digital realm by using incremental steps.
The Hiby FC3 is Hi-RES certified and capable of a 70mw per side output at 32 ohms while still boosting low power consumption. The amount of rated power output I would consider 'in-the-mix' amongst other micro DACs. Some have more power as well as some which are below FC3 power output specification numbers.
ESS DAC
.......