HiBy R2 II Review
The HiBy R2 II is not only a good performer far as sound quality is concerned but it has a ton of features for the average price of a dinner for two which makes it quite a high-value purchase.
The HiBy R2 II is the latest addition to the HiBy DAP lineup and it seems to be jammed with a list of features that you would expect a higher-priced unit to have.
A high-value concept emerges here with this model since it has many single-component features and functions but still keeps the price below the three-digit mark like the original R2.
HiBy is catering to those who don't have a large budget or perhaps are just looking for a starter-crossover model. So, you can consider this as a solution for those who just want to get their feet wet in the world of portable audio devices.
The HiBy R2 II comes in three colors, black, white, and red, and is bundled with the company's Thor earbuds. That does make me wonder if they will ever increase their bundle line-up to include other models like their Crystal 6 or their Lasya IEMs, but that's a momentary side question.
TECH HIGHLIGHTS
There are notable differences between the original HiBy R2 and the new R2 II starting with the internal DAC section. The ES9218 SoC was swapped out for a more recent and updated ES9219C. Not much else was changed far as codecs and compatible digital formats. The overall capabilities stayed the same.
The largest visible difference was the repositioning of the screen which was centered on the original R2 and honestly, I did prefer that style. However, the screen size remains the same so at least no screen real estate was lost, but there was none gained either.
The same Ingenic X1000E processor was also carried over from the R2. WiFi, Bluetooth, and the same features were also carried over. It seems like the major changes from the original player crossing over to the new R2 II were with the DAC, the body style, and some tweaks that were done to the PureAudio HiBy OS.
One particularly unique internal feature involves HiBy's in-house developed MSEB master tuning board that from what I gathered is an incorporated proprietary circuitry that allows HiBy to fine-tune the final stage and overall sound signature. It also enables the user to further execute sound tailoring.
VERSATILE DAC
The fact that the R2 II can also be used as a stand-alone desktop DAC amplifier is a good place to start mentioning all the R2 II capabilities. The internal ES9219C DAC section can be separately accessed and you can tap into it via the headphone output and coax combo jack or through a Bluetooth transmission.
A beneficiary would be the average laptop user. Most laptops have poor sound quality and the R2 II can replace the audio device on any laptop or full-size PC for that matter and will just occupy and require one USB slot to do so.
All you have to do is go into the system menu and find the USB mode. Once you do, set it to music or auto mode. Now once you plug it into a USB port just select the HiBy R2 II as your audio device and plug in your IEMs or headphones.
You can also tap into the R2 II by using a dual USB-C cable between a mobile device and the R2 II. In this configuration, the R2 II will function as a dongle DAC. So those are three distinct functions so far if you count the internal music player.
DECODING
The HiBy R2 II is compatible and can play along with a long list of digital formats from lossy MP3 up to lossless DSD.
Is the R2 II MQA capable? Yes, it does up to 8x unfolding. What HiBy does not specify is if the unfolding is done via hardware or software rendering. If I'm not mistaken, from what I last read on the SoC chip used is that it's capable of partial hardware rendering MQA and if so I'm sure HiBy capitalized on that fact.
Other facts about the ES9219C are that this quad DAC chip has a PCM 32-bit rate 384kHz capability, it does DSD at up to DSD256 and it also has a selectable line 1-volt or 2-volt output which is probably where the R2 II also gets its two gain levels from.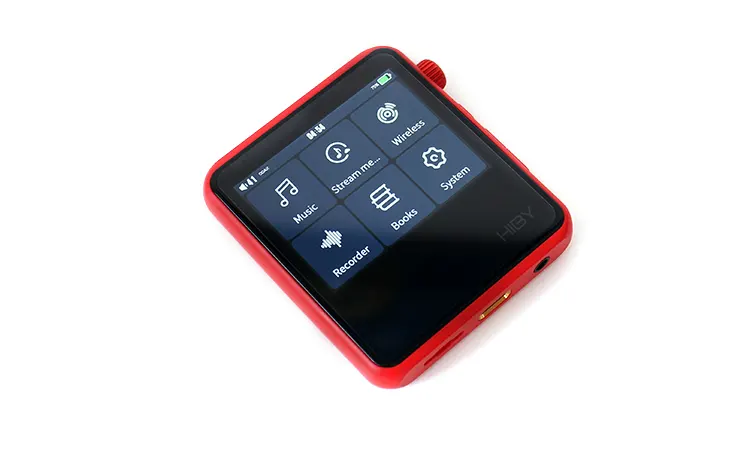 DESIGN
One area HiBy was able to cut costs was to give the R2 II a polymer body instead of going with a CNC machined block of aluminum. It works for me since this allowed HiBy to make the R2 II very lightweight and the colorful material tends to be more scratch resistant.
One peculiar design aspect involves the volume knob which to me looks similar to what you would find on a wind-up wristwatch minus the pullout feature. It's a 100-step volume knob and it exclusively handles the volume function.
Power is handled by a separate push button which has a multicolor LED behind it that displays the power on and charging status. The power button LED also displays a different color depending on the music format being played so it's not just a pretty light.
The backside is covered by tempered glass that shows off the HiBy logo and a couple of Hi-Res emblems. There's a sticker on the back as well with the serial number but it ruins the good looks of the unit since it's just a plain paper sticker with a serial number and a bar code. I'll surely remove it once I register the unit with HiBy which is advised to do so.
SCREEN
The touchscreen seems to be the same one that was used on the R2 but it was raised to the top portion of the player. Again, I would have preferred a screen that occupies the entire front panel or that is centered for better balance appearance-wise.
The 2.45-inch screen has a 480 x 360 resolution and it seems to do a good job at displaying text which is most important to me since the HiBy OS within this unit doesn't playback video. So it only has to display icons and texts plus the album art if it's available.
The swipe feature seems responsive and the R2 II never hesitated to navigate quickly. The brightness level is rather high and resistant to glaring and could be seen well on a sunny day. But, if you're indoors, I do suggest turning down the brightness level which will surely extend battery life.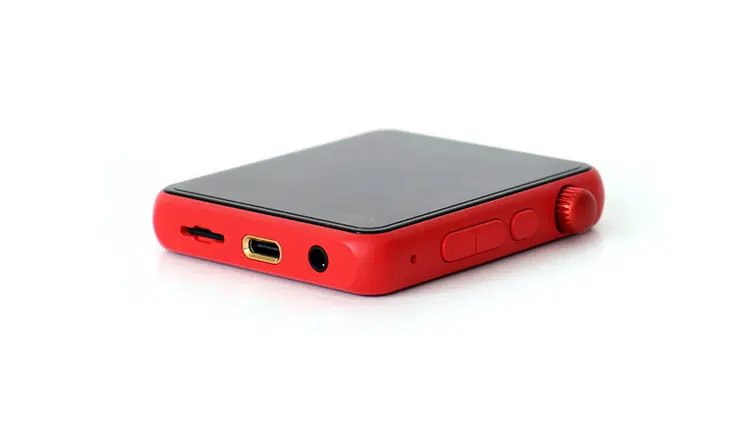 I/O
There are 3 taps incorporated into the HiBy R2 II body. The first is the 3.5mm digital coax/headphone-out combo jack.
This particular jack also supports a 4-pin microphone-equipped earbud or IEM. The R2 II has a built-in dual microphone system in case your IEM doesn't have one and it also has a sound recorder which is a nice feature to have.
The other two consist of the USB-C port which is a multidirectional port since it can receive and transmit a raw digital audio signal plus charge the internal battery simultaneously.
The USB port seems to be a 2.0 and data transfer seems a bit sluggish compared to today's 3.0 standards. It's not horrendously slow but I wished it was a 3.0 which would make transferring data through the USB-C port a shorter task but not a deal breaker.
The last one is a slot that accepts a micro SD card of up to 2 terabytes. The HiBy R2 II doesn't have any built-in internal storage so it depends on one if you want to use the internal music player, for the recorder, or the HiByLink feature.
BATTERY LIFE
The HiBy R2 II counts on an internal 1000mAh battery that HiBy claims will give you 15 hours of continuous playback and 20 days on standby.
I'd say yes and no because transmitting Bluetooth audio from the R2 II can give you over 16 hours but using the 3.5mm out gave me slightly under that amount. I got close to the time HiBy specified with a very efficient IEM and at a moderate volume level.
Charging time always remained under two hours for me and it didn't make much of a difference if I used a 1amp or a 2amp charger. It doesn't seem to have wireless charging capability. One plus I did notice was that the unit kept a cool temperature while charging.