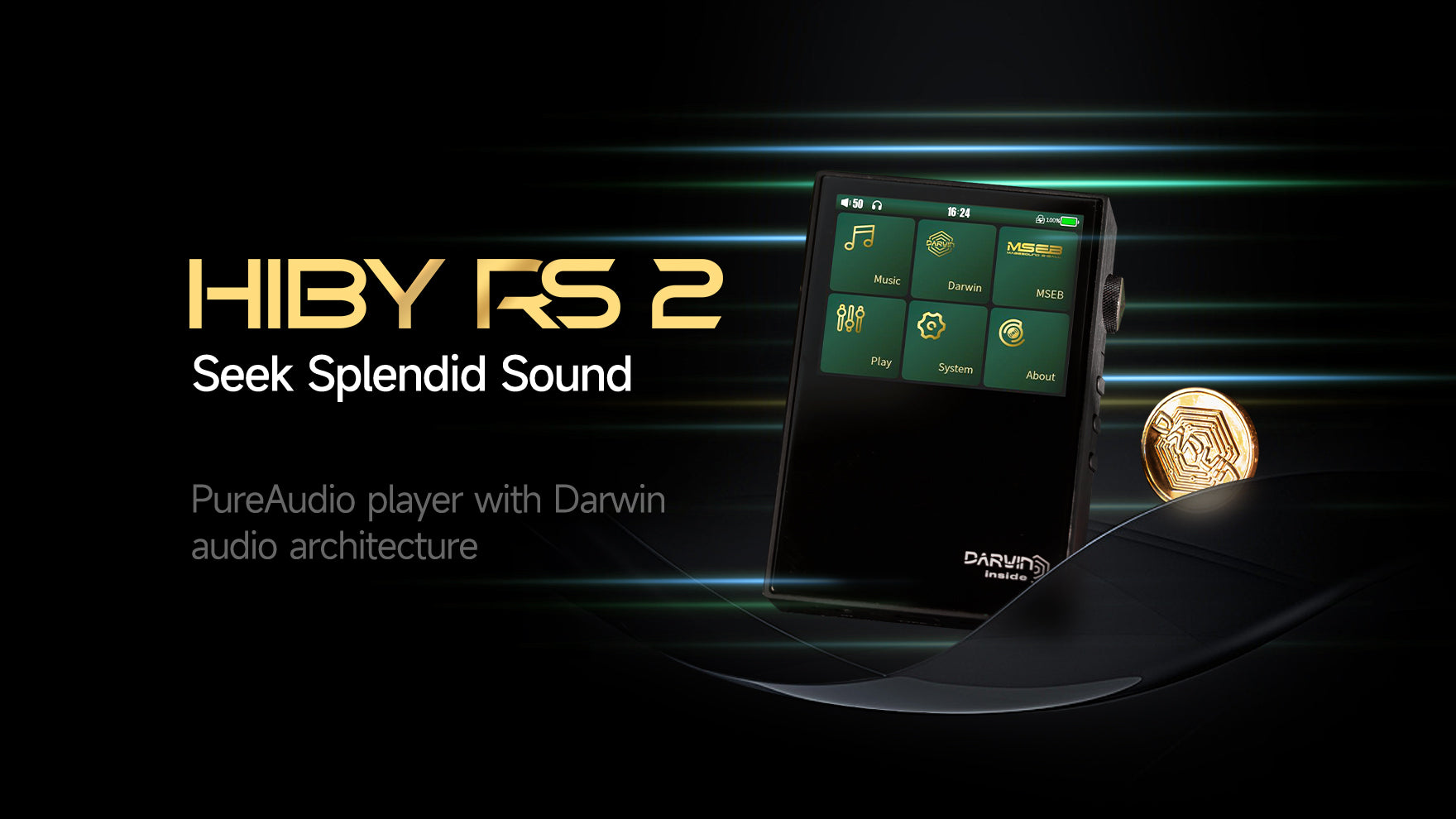 On Qixi festival night 4 August, HiBy announced its first pure music HiFi music player--HiBy RS2. With the RS2 sporting the in-house developed customizable Darwin audio architecture first found on the RS6, one can expect the accolades piled upon the RS6 to apply here as well!
HiBy has always concentrated its efforts on open platform Android DAPs, and even its Linux based R3 and R2 series have always been multifunction pocket rockets.  The RS2 announced just now takes a different path;  with its PureAudio "pure" HiBy OS, it is without any wireless software or hardware;  a pure audio pathway ensures a pure audio experience.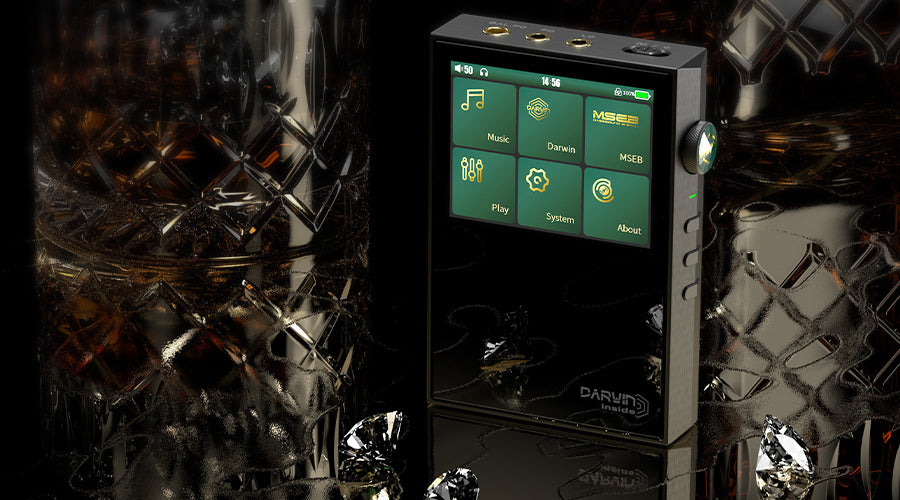 In appearance, the RS2 melds its usual family lines with a compact, retro motif.  The volume knob on the side incorporates an opal emblazoned with the gold Darwin logo.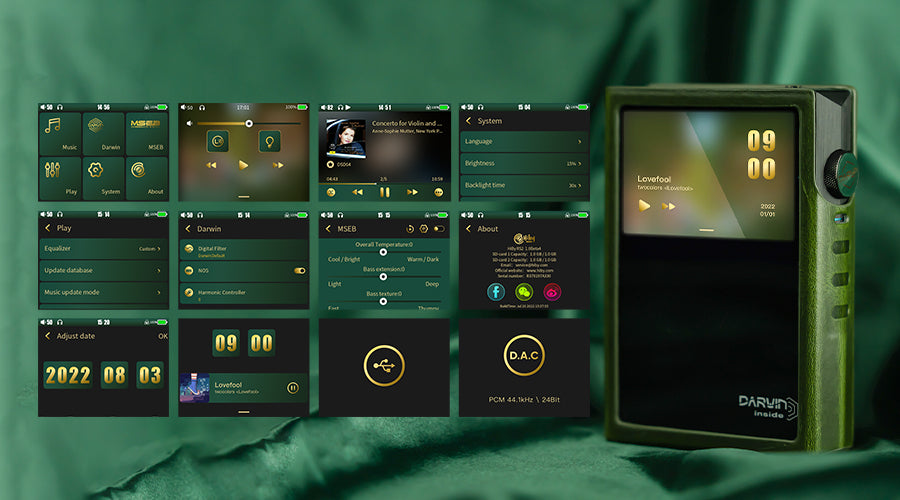 HiBy remade its Linux-based HiBy OS in the green and gold Darwin theme.  The all new simplified UI blends in perfectly with the new software and hardware and makes the player a snap to operate.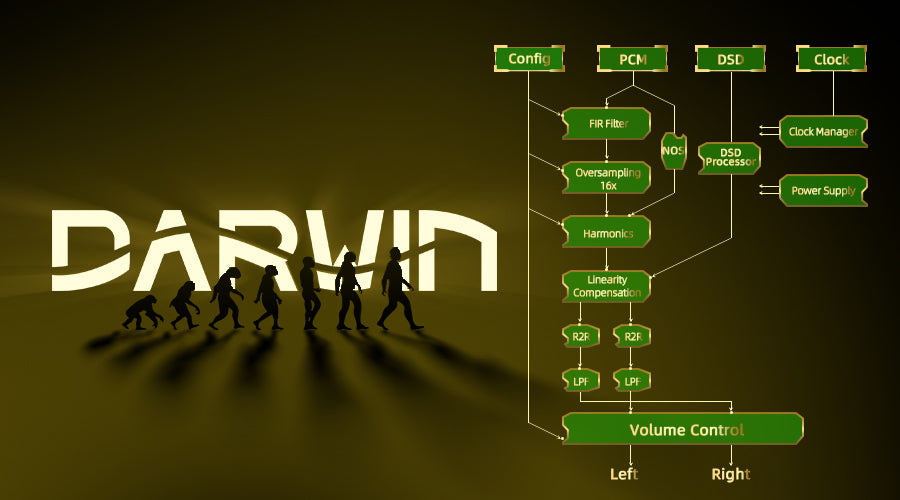 The Darwin architecture is the in-house developed Hi-res audio processing architecture by HiBy.  New-age audio fidelity technology is integrated onto the base of R2R ladder DAC technology, including linearity compensation for the R2R network, FIR filtering, harmonics controller, OS/NOS switch, DSD bypass path etc.  HiBy retains full IP over this new architectures and gives full control of it to the end user, yielding endless potential for evolution on this unit as well as future devices!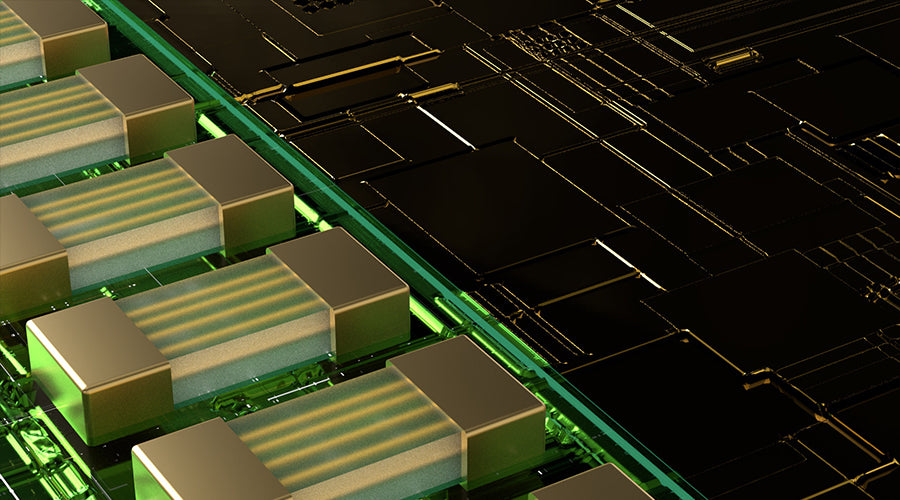 With a complete output stage designed around the R2R DAC, the RS2 sound is fully musical, realistic, natural and analogue, highly energetic when called for, fully immersive for the listener.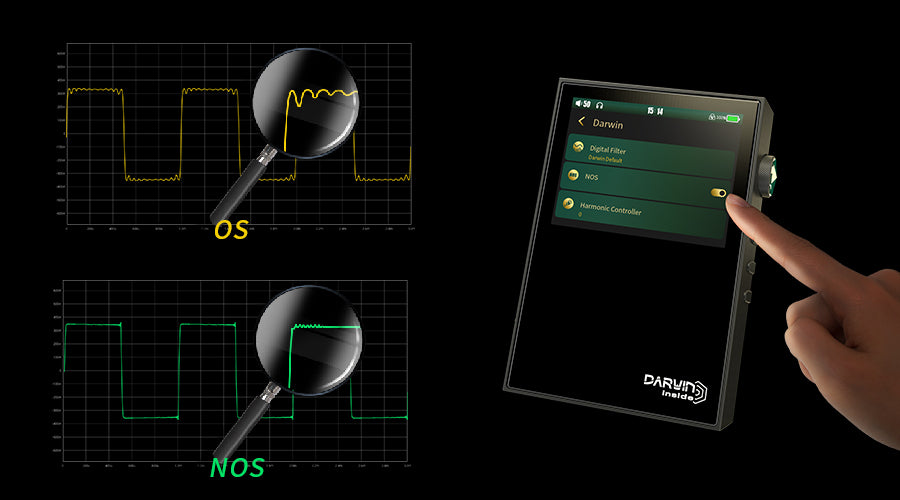 The RS2 allows free switching between NOS (non-oversampling) and OS (oversampling) modes.  NOS mode yields raw response to signal changes;  OS mode is adapted to the various additional functionalities of the Darwin architecture, realizing personalized adjustments to the sound qualities to adapt to different earphones and different tastes.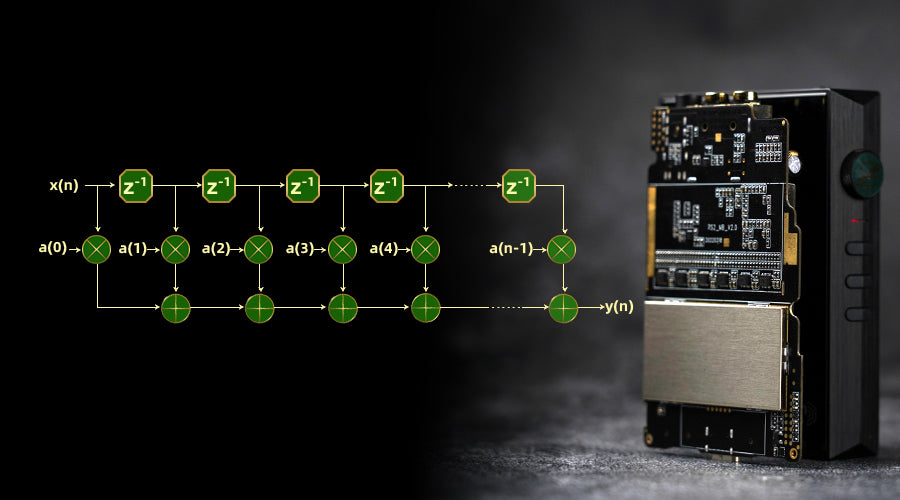 The Darwin architecture is capable of up to 16x oversampling, with a variety of AA filters of up to 256 taps suited to various design goals, e.g. phase linearity, high fidelity;  also adaptable to the characteristics of different earphones, guaranteeing the suitability of the RS2 to all sorts of earphones.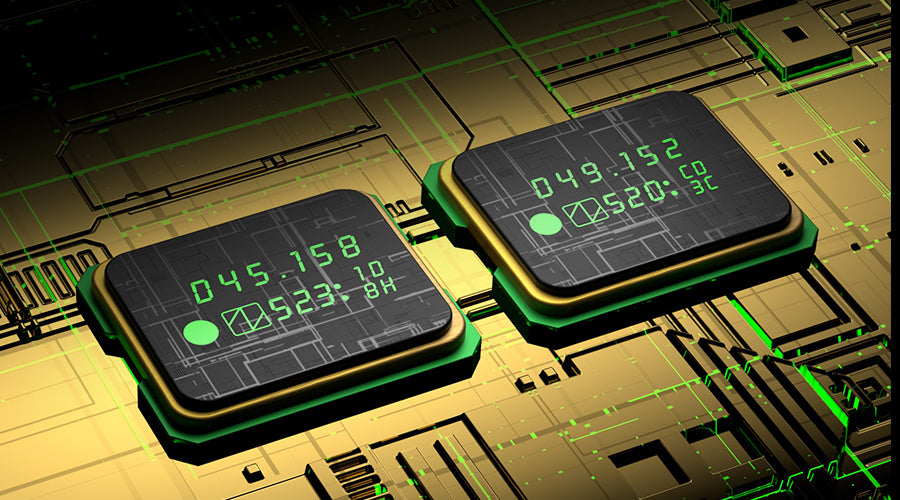 The RS2 has an FPGA-based clock regeneration system onboard, utilizing dual precision crystal oscillators at 45.185MHz / 49.152MHz, effectively reducing phase noise and jitter to -140dBc/Hz@1kHz offset.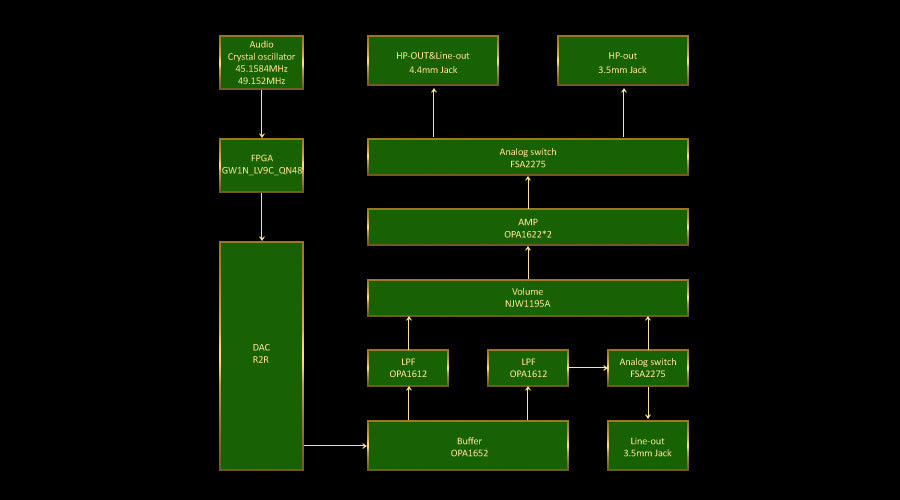 Utilizing current mode amplification, the luxurious output stage amplifies current via a OPA1652 and an LPF consisting of 2x OPA1612, offering high and clean input voltage and current to the output stage for exemplary transient and dynamic response.
In conjuction with 2x flagship class OPA1622 amplifier chips, 4 independent channels of current mode headphone amplification, and the professional digital volume controller NJW1195A, the circuit guarantees maximal fidelity of the output to the input, and maximal control over the headphone drivers.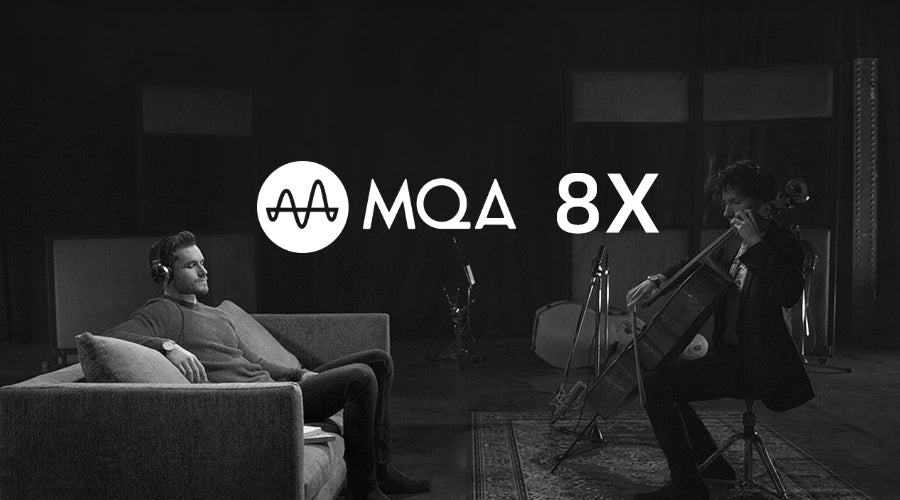 It also supports MQA audio at 8x unfolding to 352.8 / 384kHz.  After years of advertising, MQA is now well known in HiFi circles as a low storage usage format that yields master tape quality playback.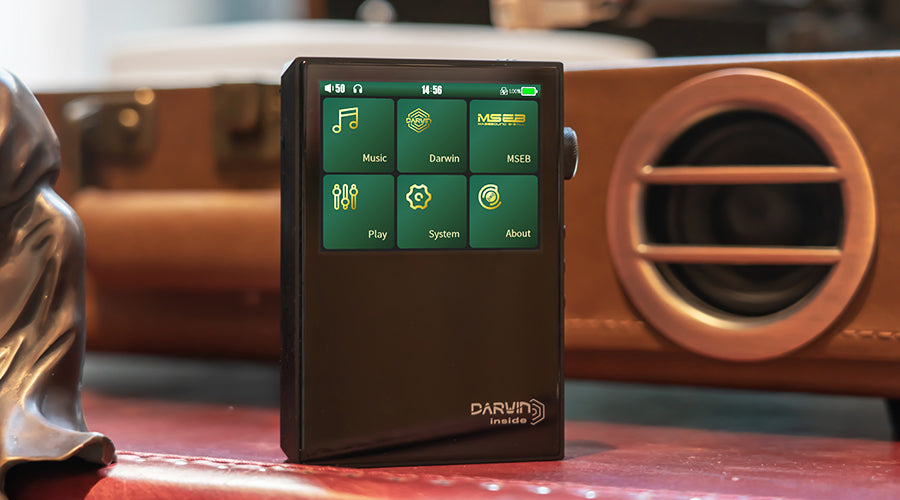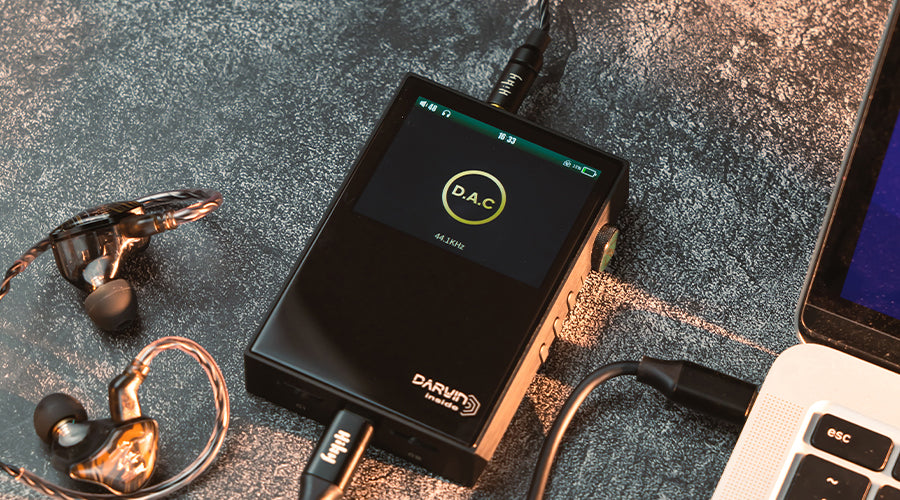 The RS2 supports up to DSD256 / PCM 384kHz and all major audio formats;  in terms of cabled connectivity options it continues the HiBy tradition of offering a ful suite of USB input / output, coaxial digital output and line output.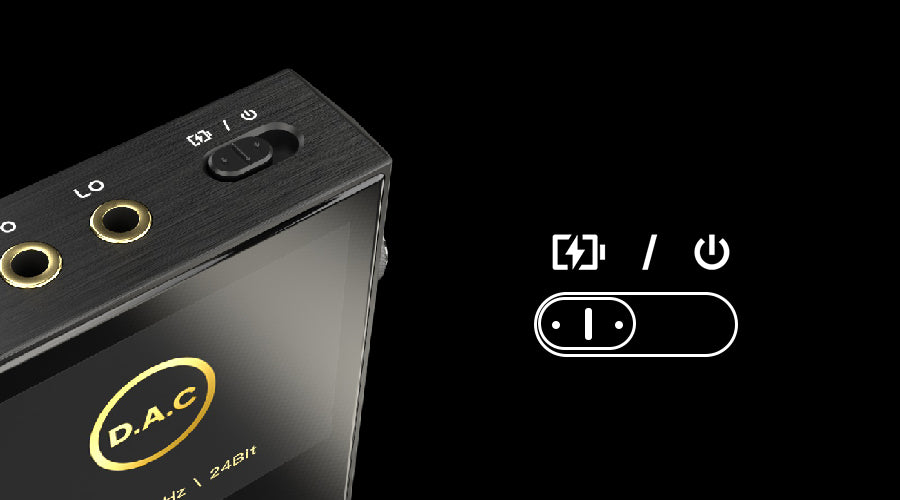 Other than this, the RS2 sports a unique Uncharging mode, which stops it from taking charge from the connected device (e.g. smartphone) while being used as a DAC.  Not only does this reduce battery drain on the smartphone, it also isolates device from external power supply noise to the greatest extent, further improving the music experience.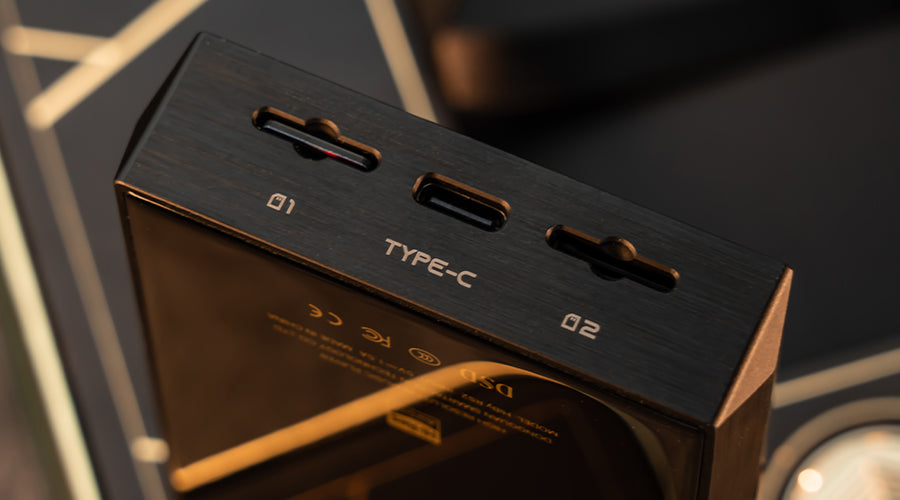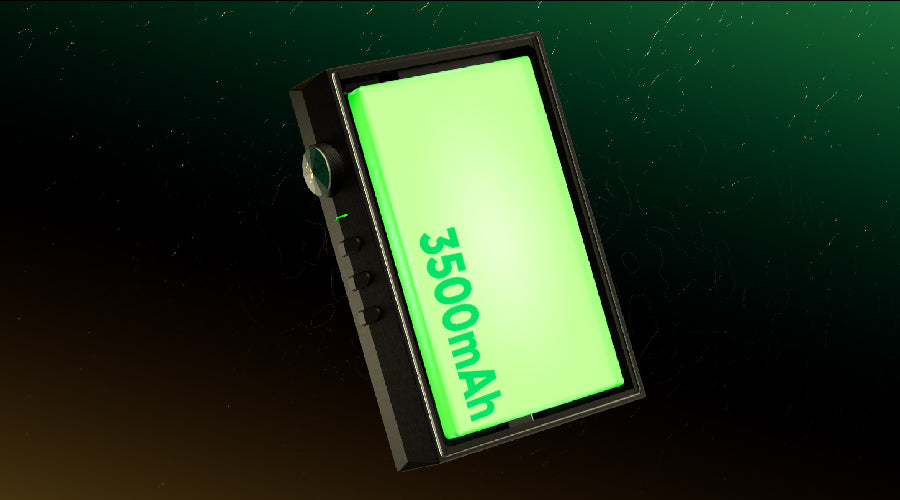 It also supports dual micro SD cards for up to 4TB of mobile music storage, and up to 10 hours continuous playtime and 40 days extended standby.