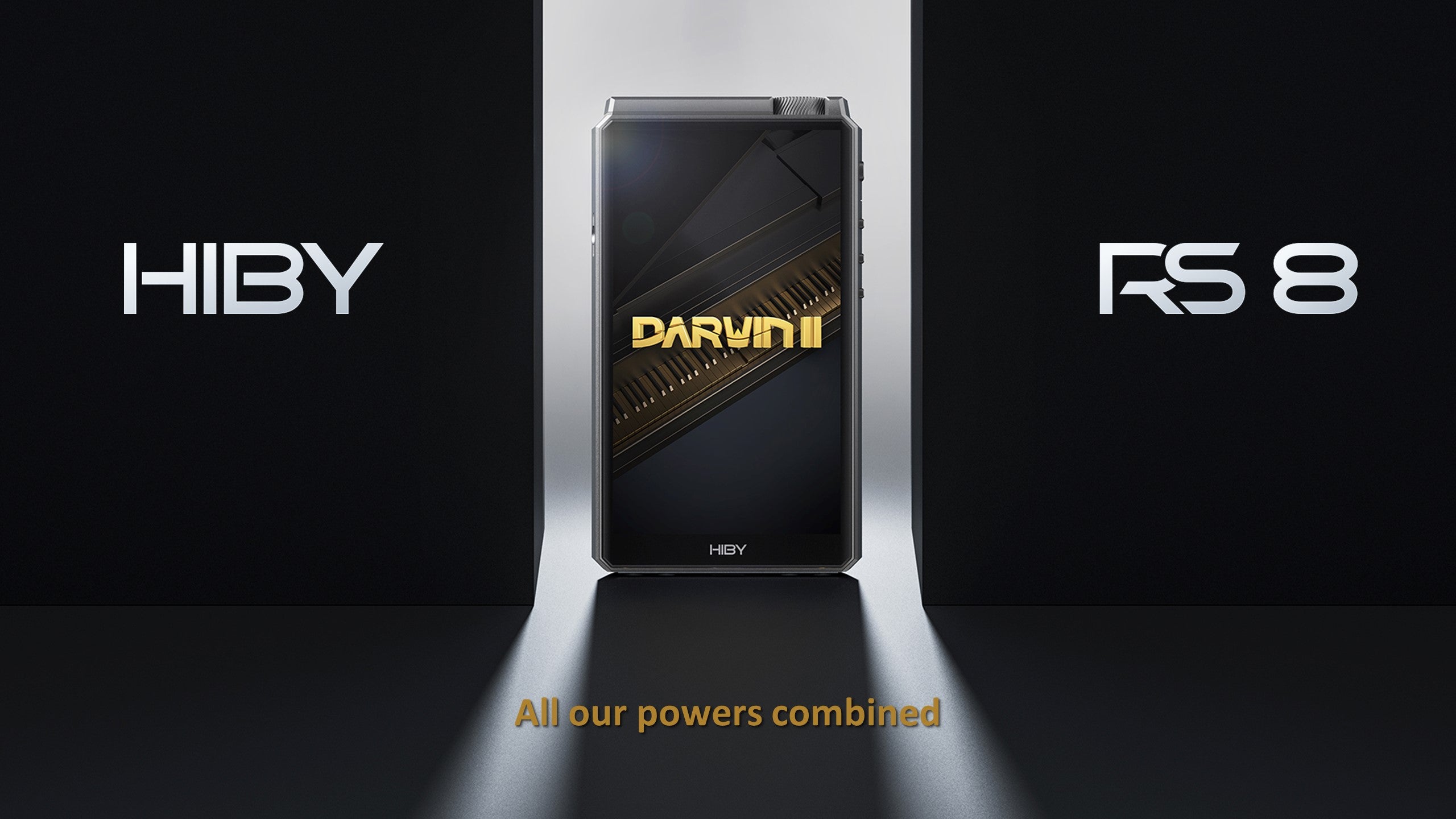 On 28 September 2022, HiBy Music announced its new flagship portable digital audio player, the HiBy RS8.
HiBy entered public sight first with its HiByMusic app.  Its path to being a hardware manufacturer was not easy;  core audio algorithms, digital-analog conversion technologies, analog amplification.
Under the banner "all our powers combined", RS8 represents the culmination of all the research and development ever done at HiBy Music, as well as all their resources--all titanium body, 2nd gen Darwin architecture, R2R DAC, class A amplification, turbo mode, HiByOS updated to Android 12… embodying all these advanced technologies, the RS8 represents the best from HiBy yet, a fully rounded device that will bring out the best of the most demanding music and headphones!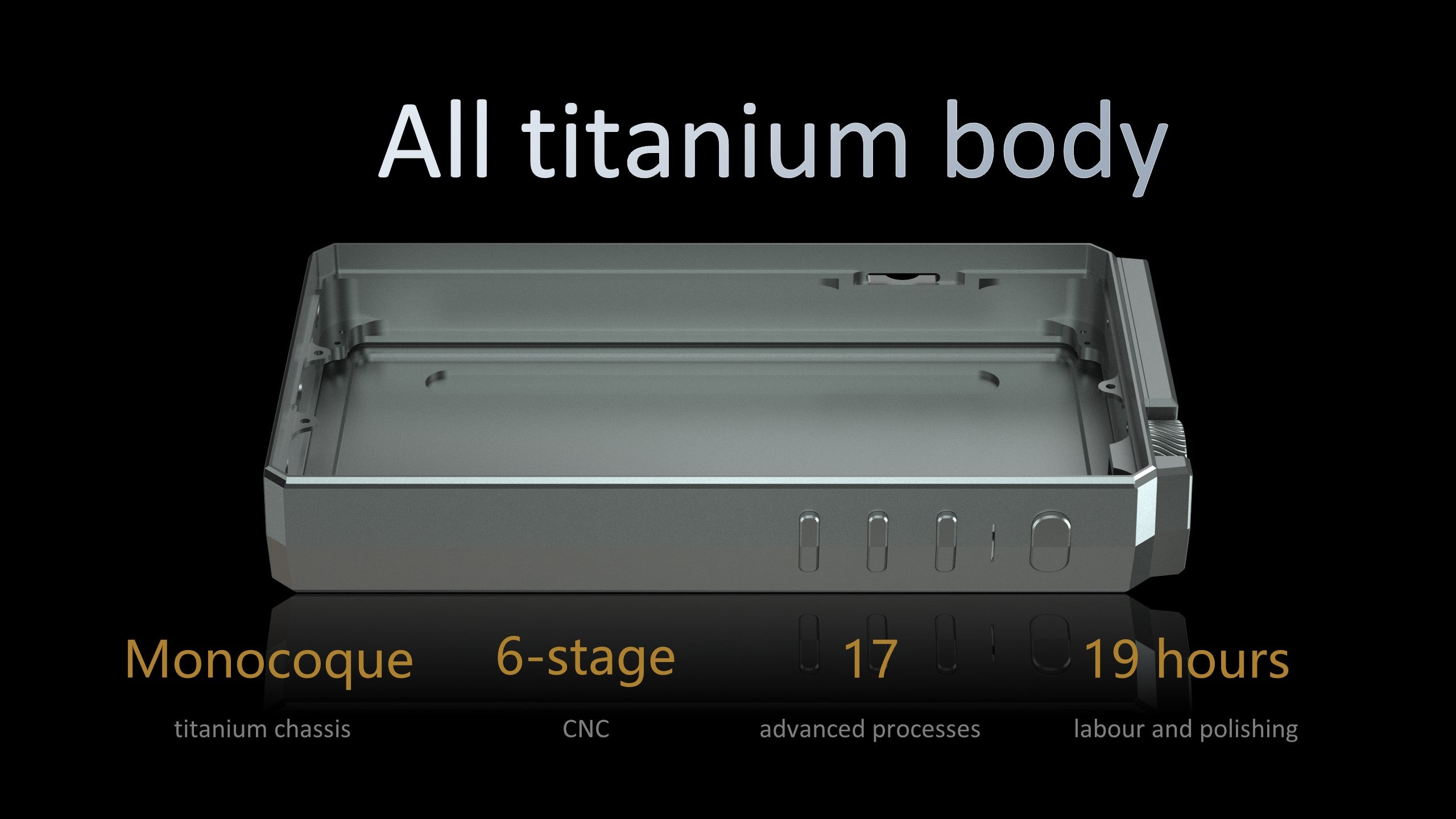 All-titanium monocoque chassis
The RS8 inherits the familiar HiBy family design lines, while moving up to an all-titanium material for a leap in perceived quality over the prior aluminium and stainless steel bodies! The RS8's titanium body is formed from a single solid slab of titanium via CNC in 17 advanced steps over 19 hours for each unit, forming its bold lines with precision; a photolithography process is used to inscribe the monogram pattern on the back incorporating "RS" and "Darwin". The designer's attention to detail, the satisfying but not excessive weight and the quality of the machine process bring a qualitative leap to the impression of quality!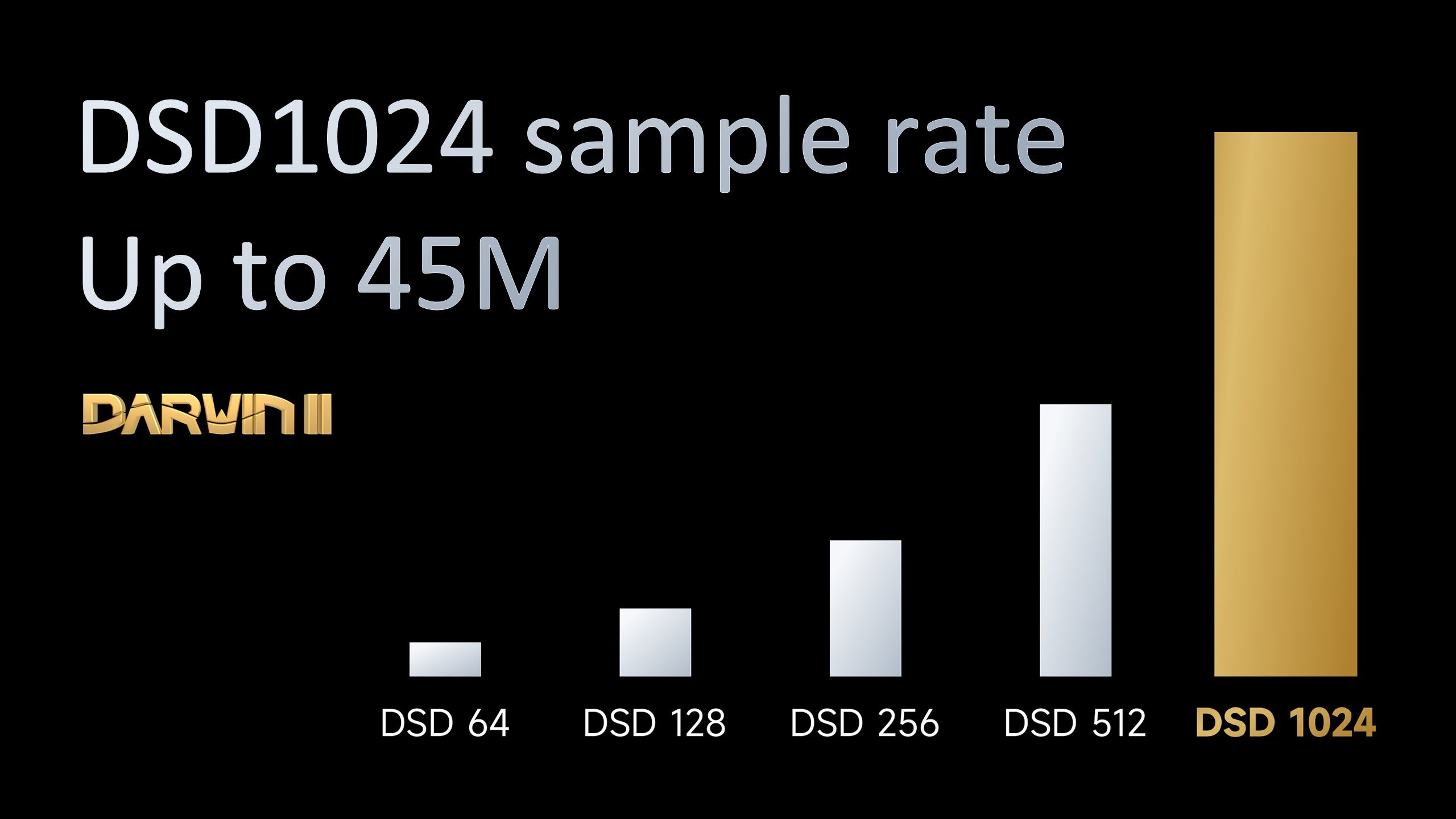 A leap in quality--the Darwin architecture, take 2
Those who know about HiBy products would know that the RS series is HiBy's in-house developed end-to-end hi-res audio processing architecture based on the R2R resistor ladder design.  In a breakthrough evolution of traditional R2R architecture, the system includes resistor ladder linearity compensation, linear FIR filter, nonlinear harmonics control, switchable oversampling / NOS, and DSD bypass on portable equipment.  The end-to-end flexible architecture is fully configurable by HiBy themselves, as opposed to DAC-on-chip solutions bought from the likes of TI, AKM, ESS etc. where one is limited to what is provided, creating endless possibilities for future upgrades and endless evolution in the RS Darwin architecture!
As such, the RS8 comes with the latest Darwin II architecture, allowing decoding at breathtaking heights of up to DSD1024 / PCM1536!  The RS8's R2R network is also comprised of 12 high speed electronic switches and 184 high precision resistors, more than double the numbers on the RS6!  To pursue the ultimate dynamic range and transient response, HiBy further added a DC offset correction circuit to enable the use of DC coupled direct output!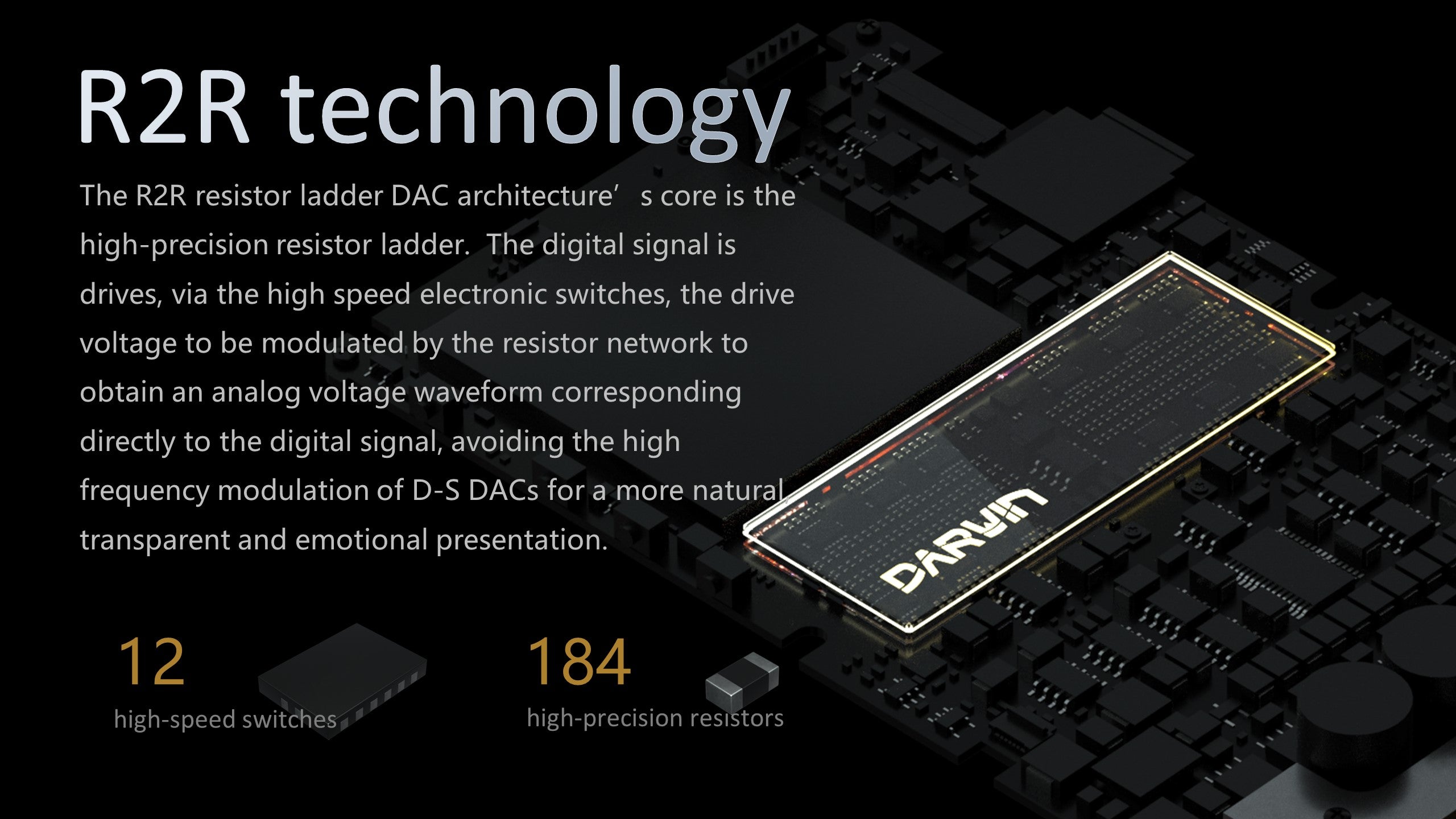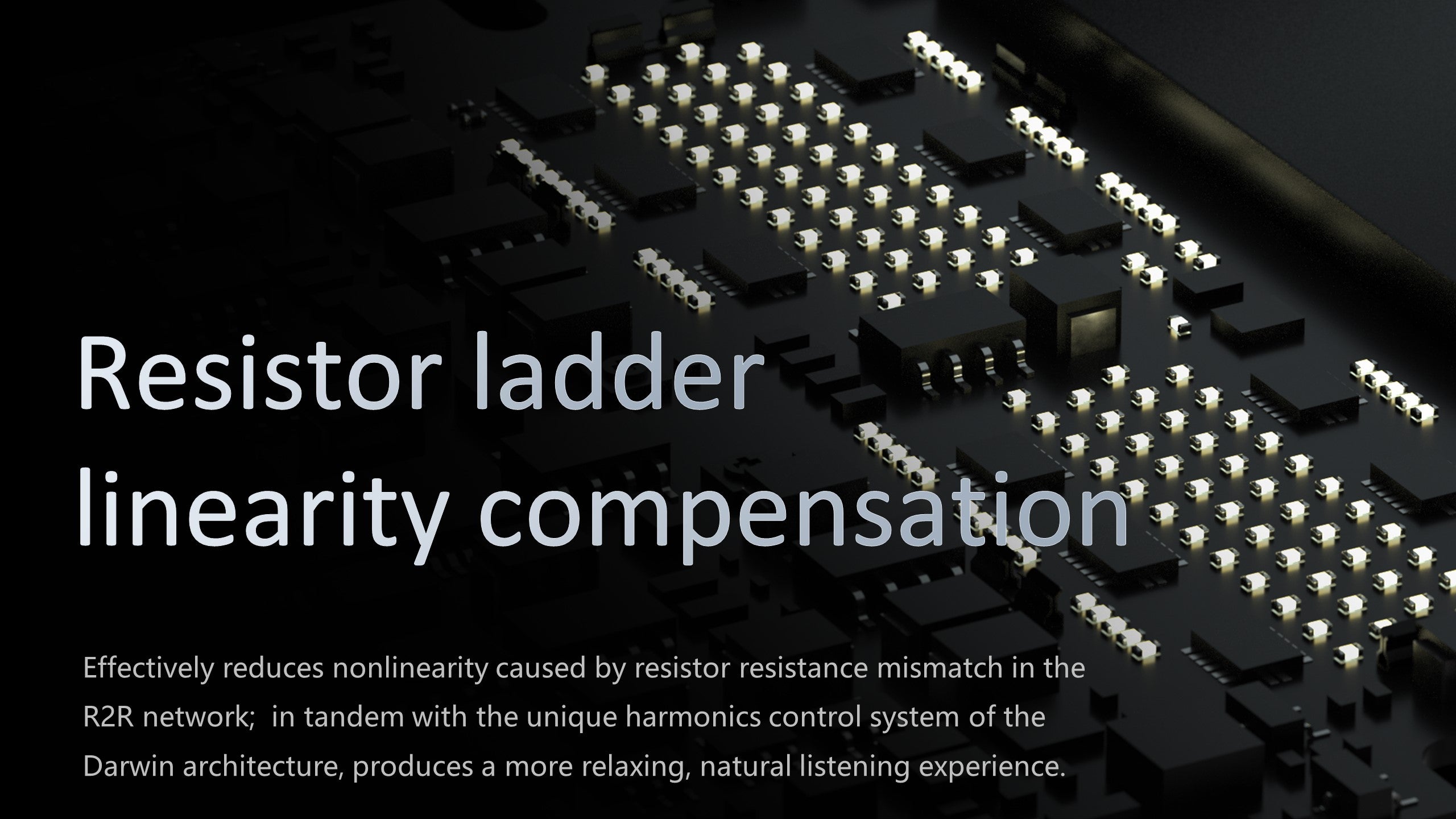 R2R DAC architectures are renowned for their steady character, conveyance of musical information and emotion, natural and rounded tonality!  But one problem it has is linearity error brought about by resistor resistance variations.  High precision resistors are used in the R2R networks, and the digital signals drive the voltage divider resistors in the R2R network through high speed switches, different divided voltage levels being precisely converted to analog signals corresponding to the originally encoded levels.  Moreover, an in-house developed correction system, a hybrid hardware network / software algorithmic solution, comprises an R2R linearity compensation system, effectively removing the high frequency noise generated in playback and any sign of digitalitis, truly reproducing the original recorded sound!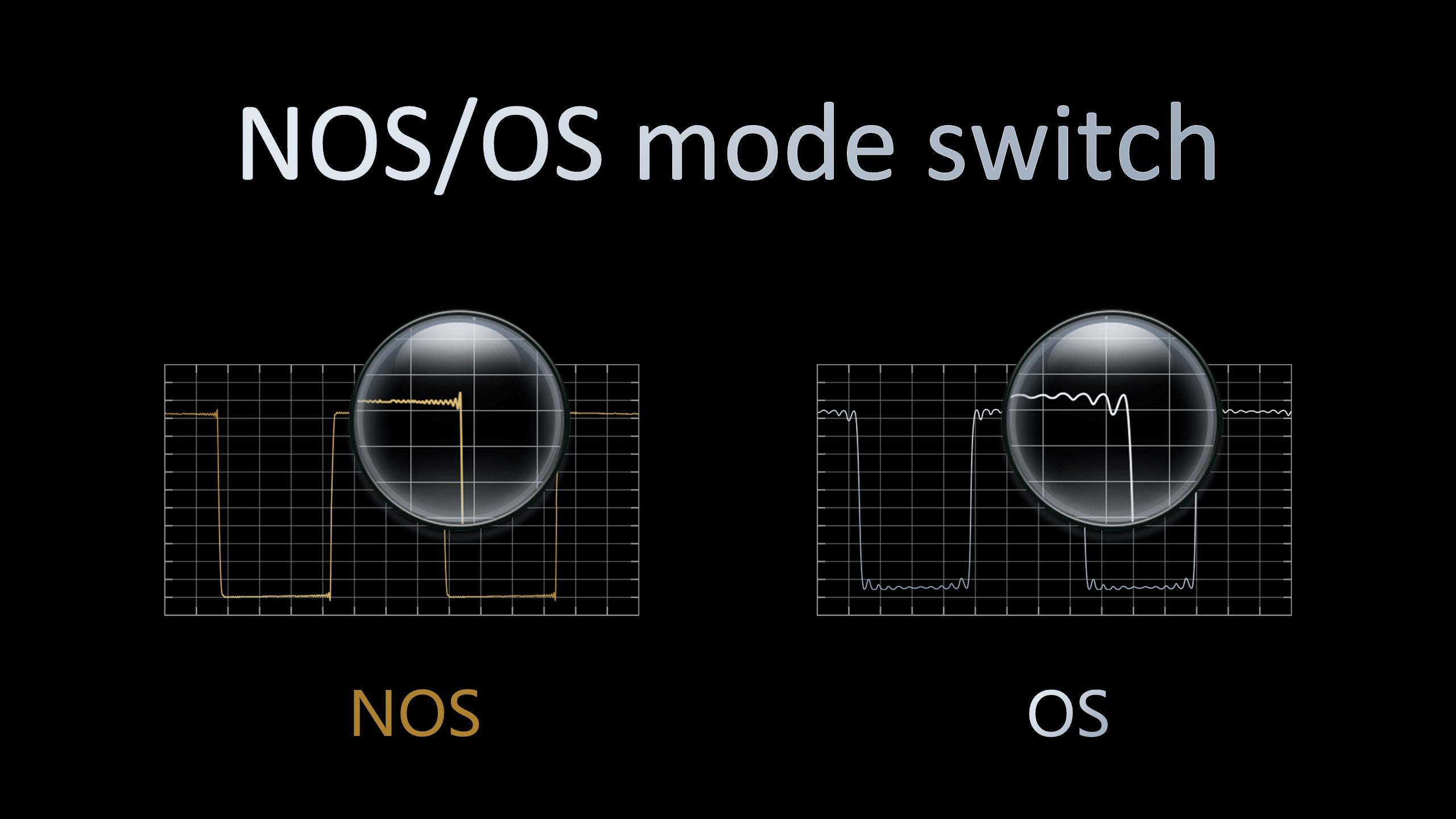 Freely switchable Oversampling
Classic RS series option, NOS / OS mode switching available for the perfect sound for everyone; NOS mode yields faster response direct translation of raw data for the raw output of audio input and maximum transient response; OS mode enables all Darwin architecture functionalities, realizing personal tuning of the sound output, including earphone mfc + HiBy official tunings for different earphones for maximum customizability!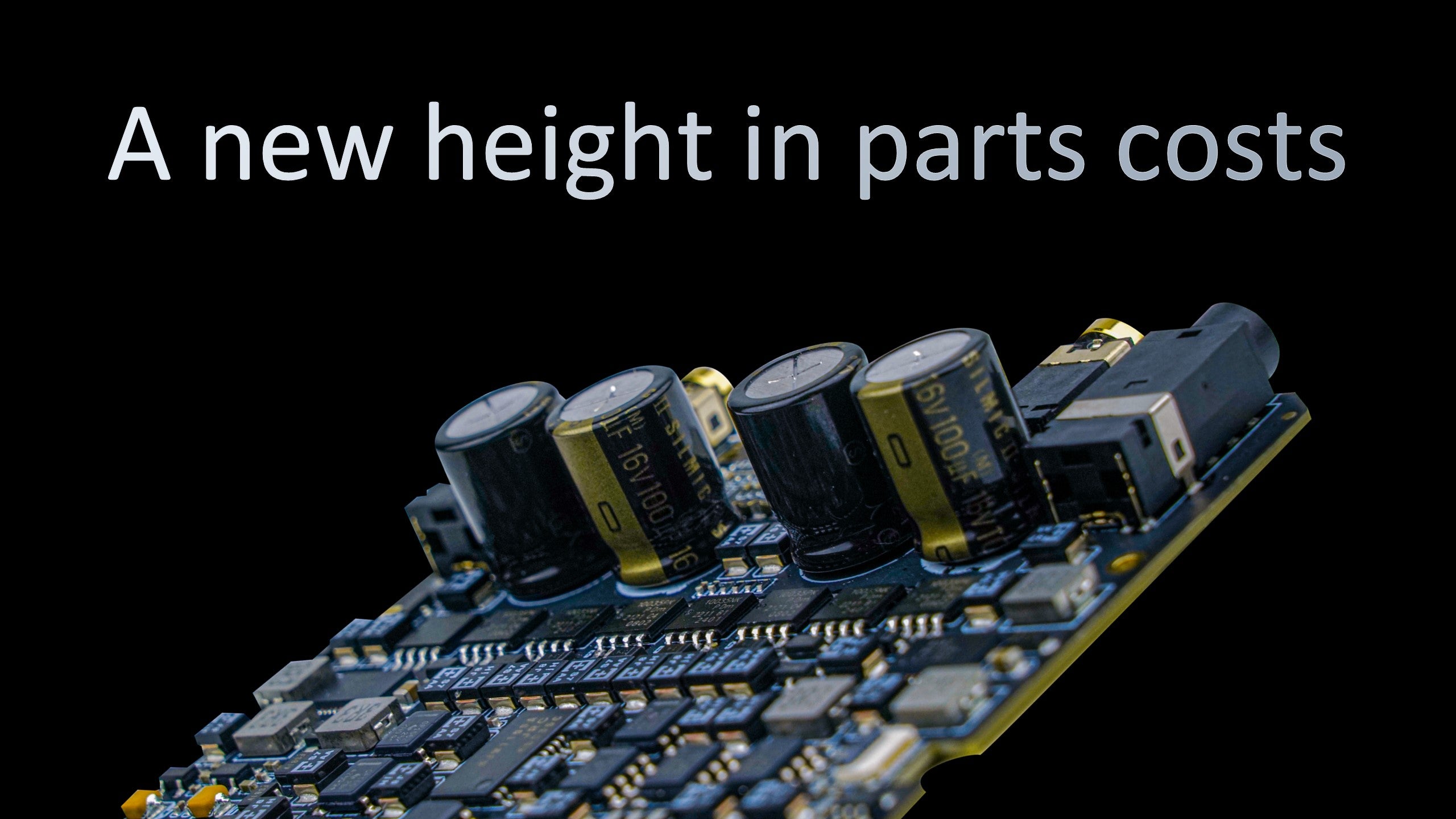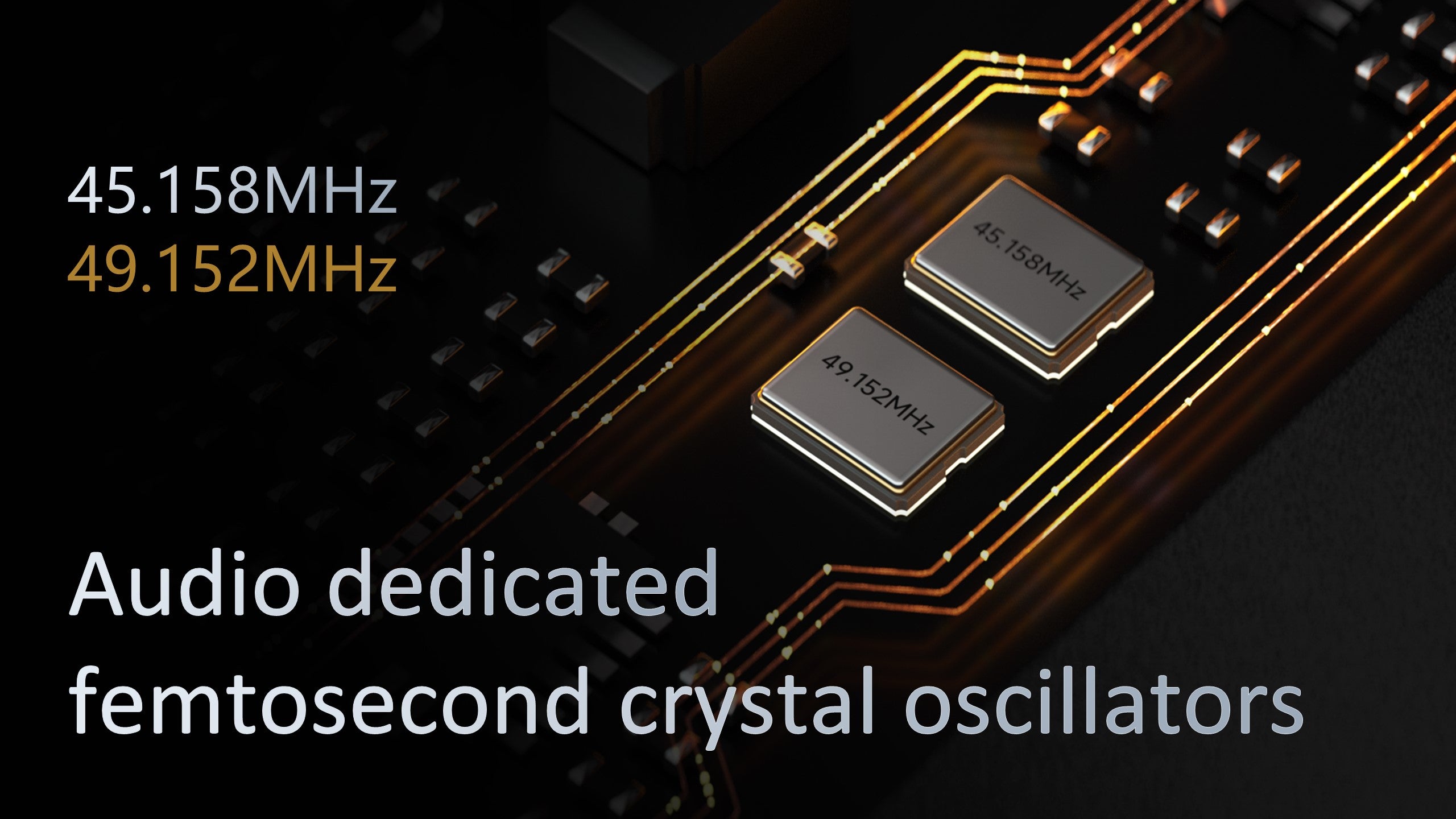 Femtosecond precision!
Two femtosecond-class crystal oscillators on board! Oscillators at 1024x of 44.1kHz and 48kHz operating at femtosecond precision effectively reduce phase noise and jitter to -159dBc/Hz @1kHz for all audio formats!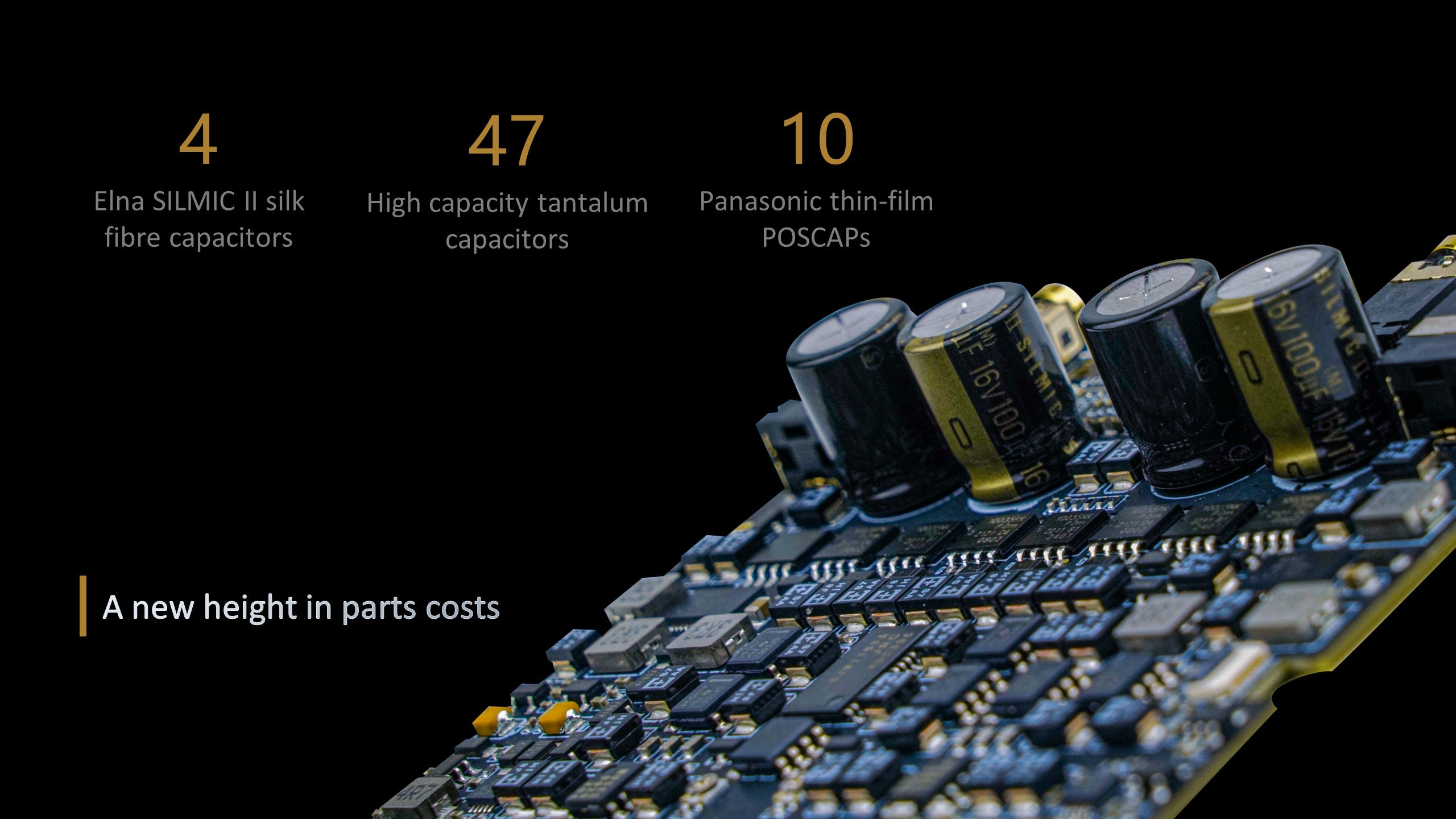 Cost-no-object component selection!
The RS8 reaches new heights in parts costs; its weighty chassis houses equally weighty (pricewise) parts, including handpicked gold-tantalum capacitors rarely found in transportable let alone portable units; 4 Elna SILMIC 2 silk fibre capacitors; 47 high capacity tantalum capacitors; and 10 Panasonic thin-film POSCAPs. All working to ensure pure ripple-free power supply, lower THD and noise. The velvety dark background brings out all details in the music! The luxurious loadout brings substance to the "all our powers combined" claim for the RS8!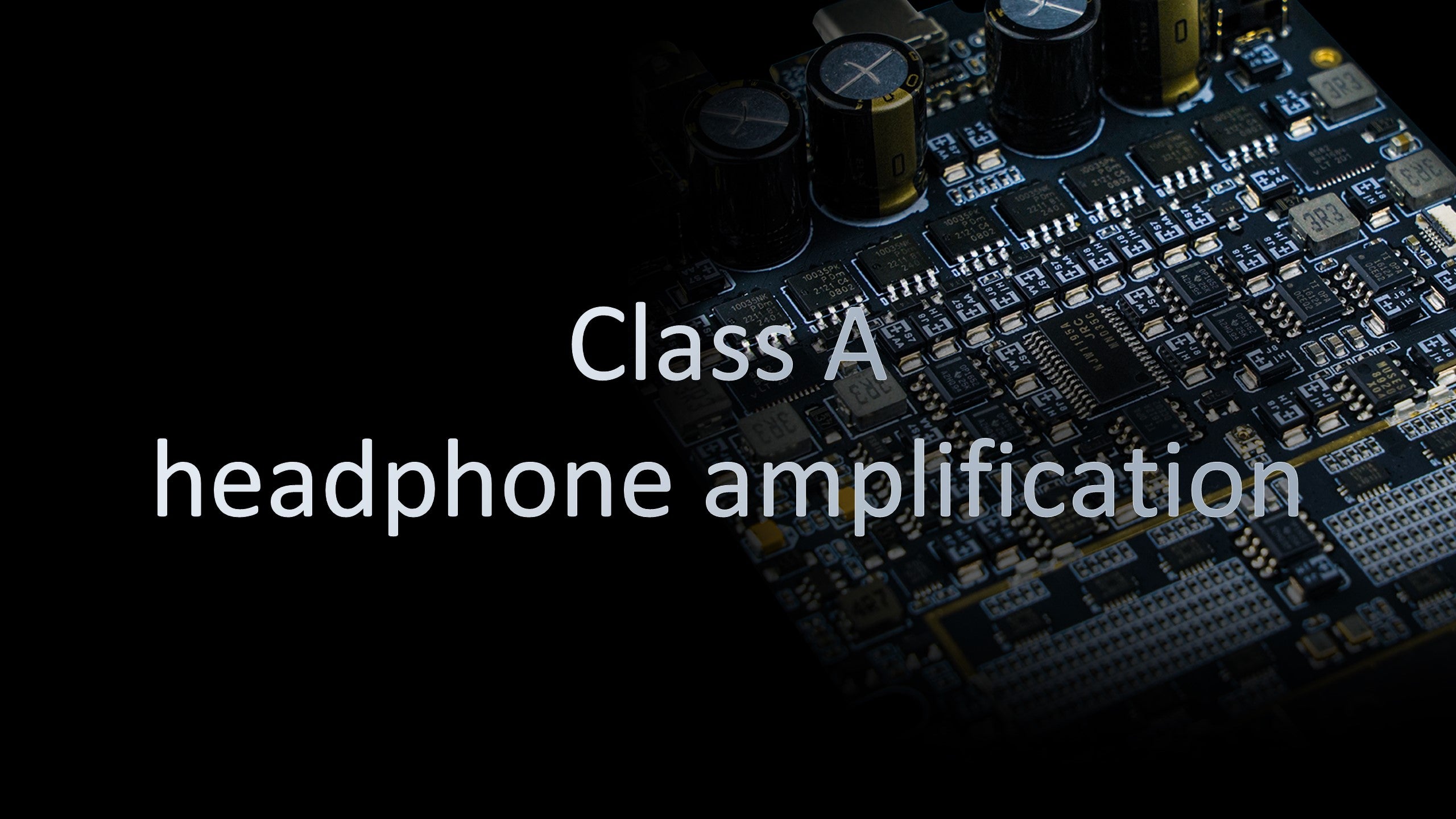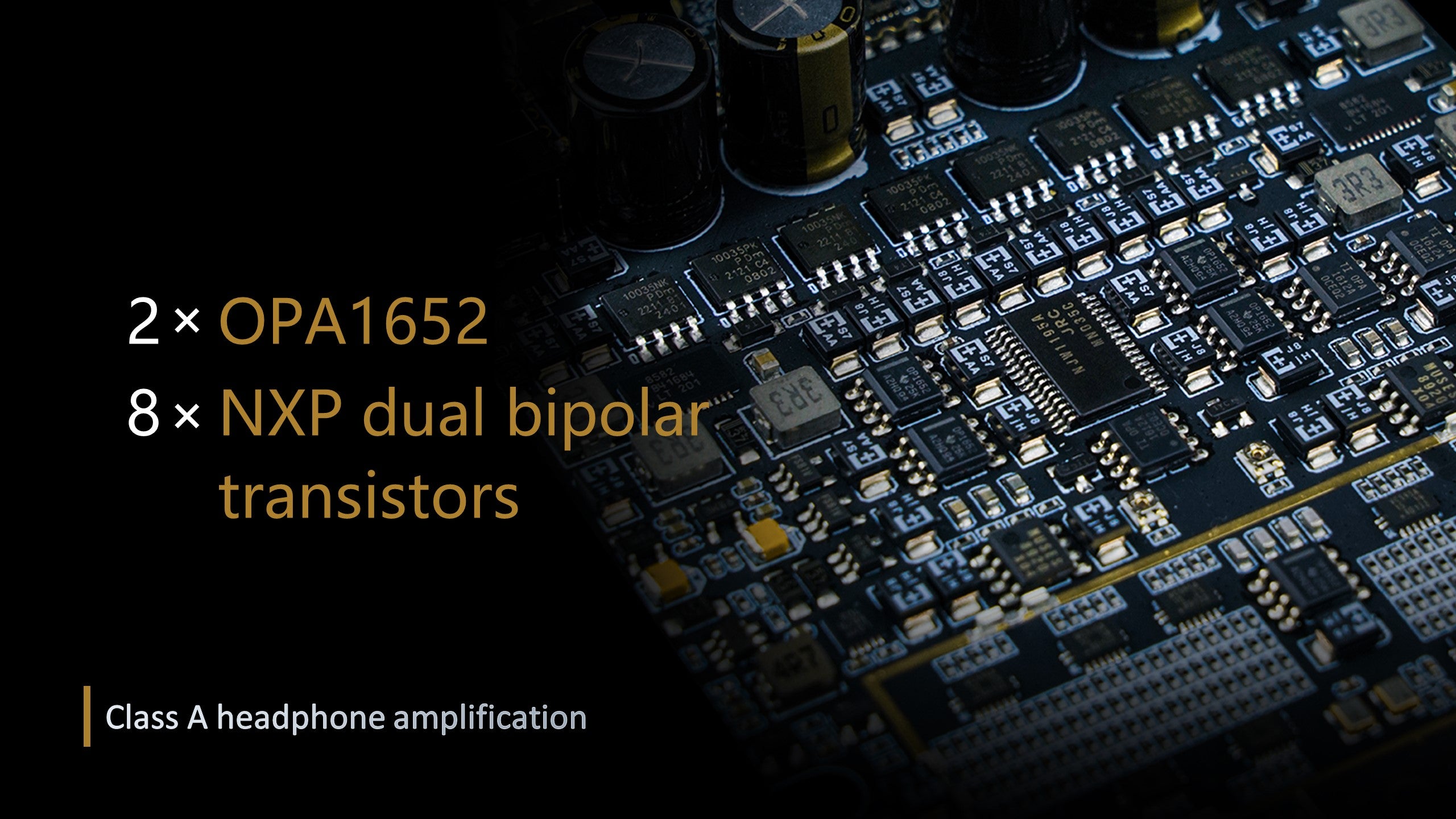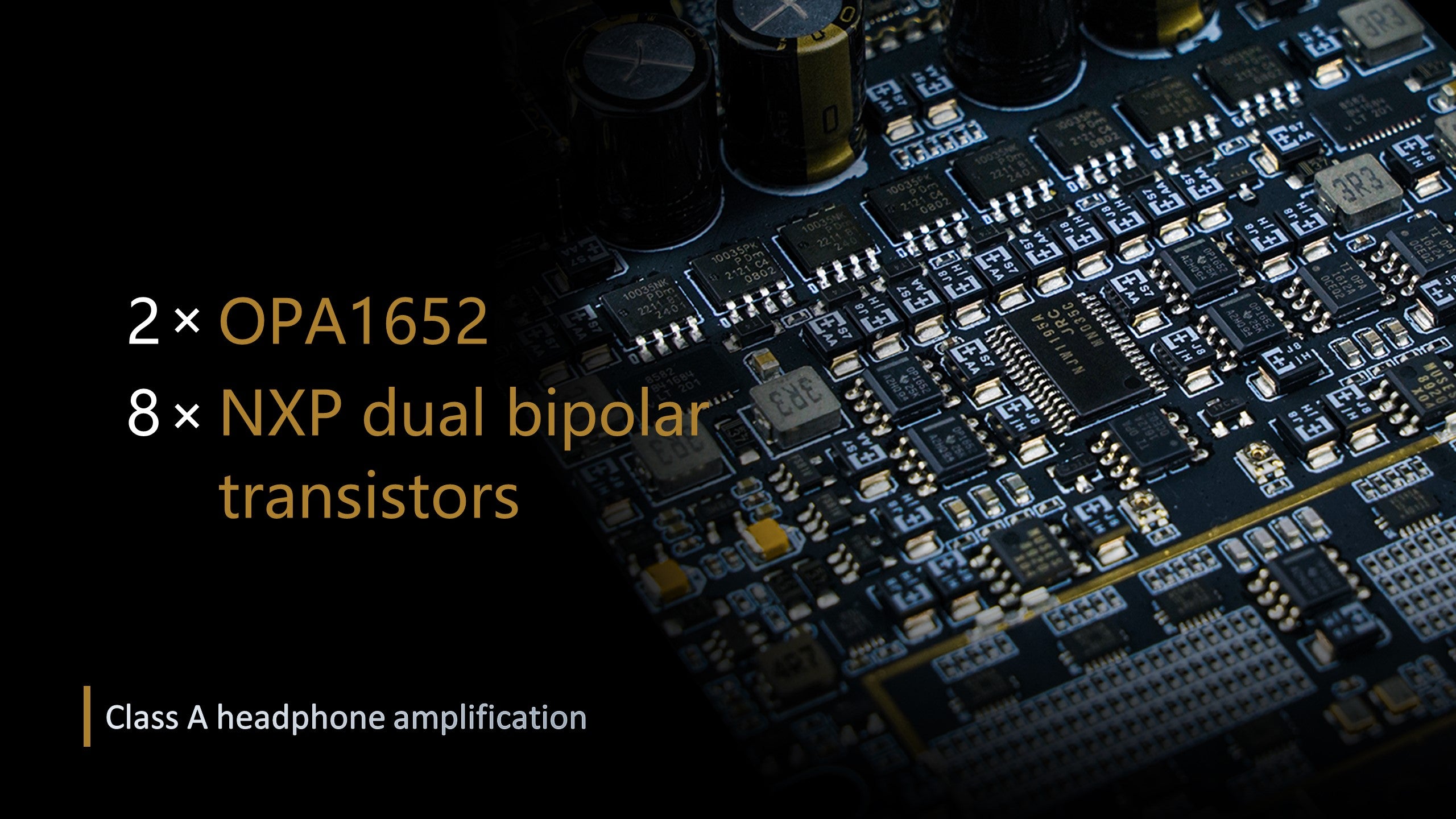 Class A amplification for class A driving power!
The R5 Gen II also lends its power to the RS8 by putting its Class A headphone amp on the table!
Class A headphone amps appeared for the first time in a HiBy on the R5 gen II. On the RS8, the class A amp further comprises 2 OPA1652 op-amps+8 NXP dual bipolar transistors, ensuring that the amp fires on all cylinders in class A! The Class A headamp is full and rounded in tonality, highly energetic, and plays large ensembles and highly complex passages with great confidence! Drives full size headphones and hypersensitive IEMs with equal aplomb!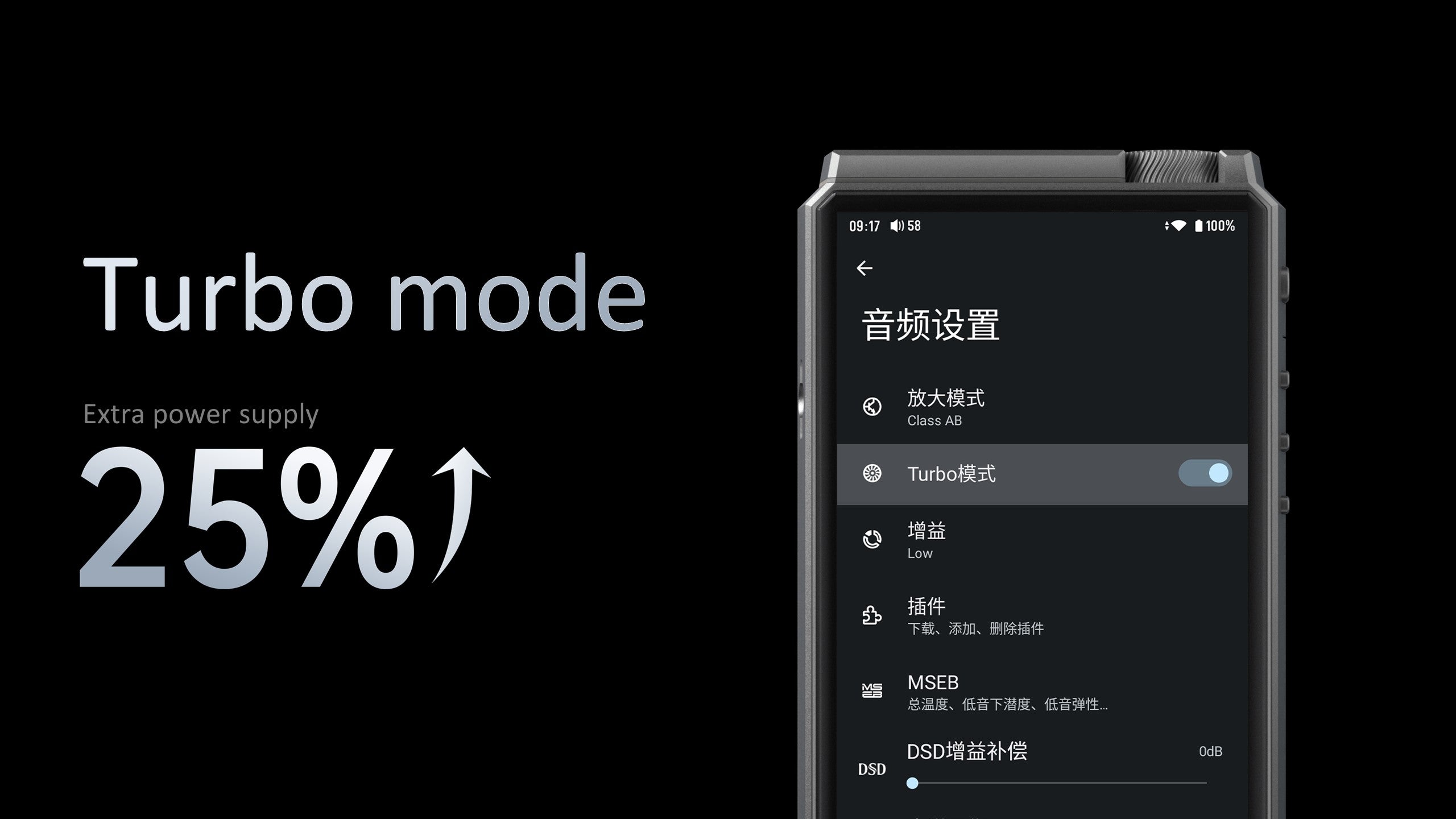 Full turbo power!
The RS8 also sports Turbo mode, your one-button solution to great sound! Turning on Turbo mode increases the amplifier's bias voltage in hardware, increasing bias voltage by a whopping 25%, and changing the headamp's operating conditions, yielding higher dynamic range and driving power, easily driving over-ear headphones and high-Z earbuds!
Larger! Larger! 12000mAh large battery!
The RS8 goes one better than R8's 10000mAh battery and sports a 12000mAh battery! Providing unlimited power for the Class A headamp in Turbo mode! Even in Class A mode the battery life remains stellar at 8 hours SE / 6 hours balanced! Keep your music with you at all times at the highest quality!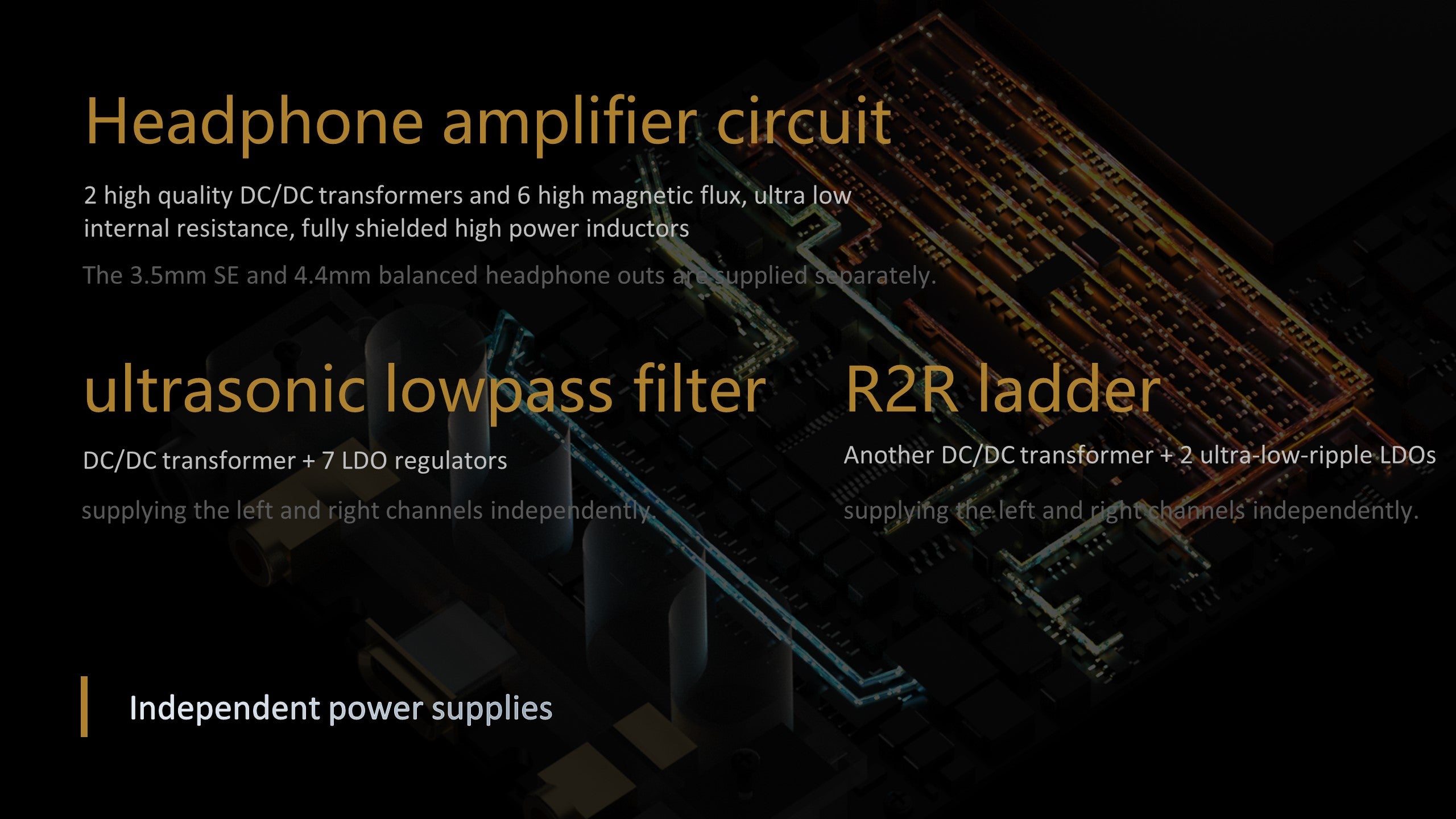 4-way independent power supply
The RS8 supplies power to the digital, DAC, preamp and headamp sections fully independently of each other; the headamp is powered by 2 low-ripple DC/DC transformers and 6 high-magnetic-flux, ultra low IR and fully shielded high power inductors, supplying power independently to the SE and balanced headphone outs; the LPF is powered by a DC/DC step-up transformer and 7 +/- LDOs, supplying power separately to left and right channels; The R2R DAC is powered by a DC/DC step-up transformer and 2 ultra low ripple LDOs, supplying power separately to left and right channels.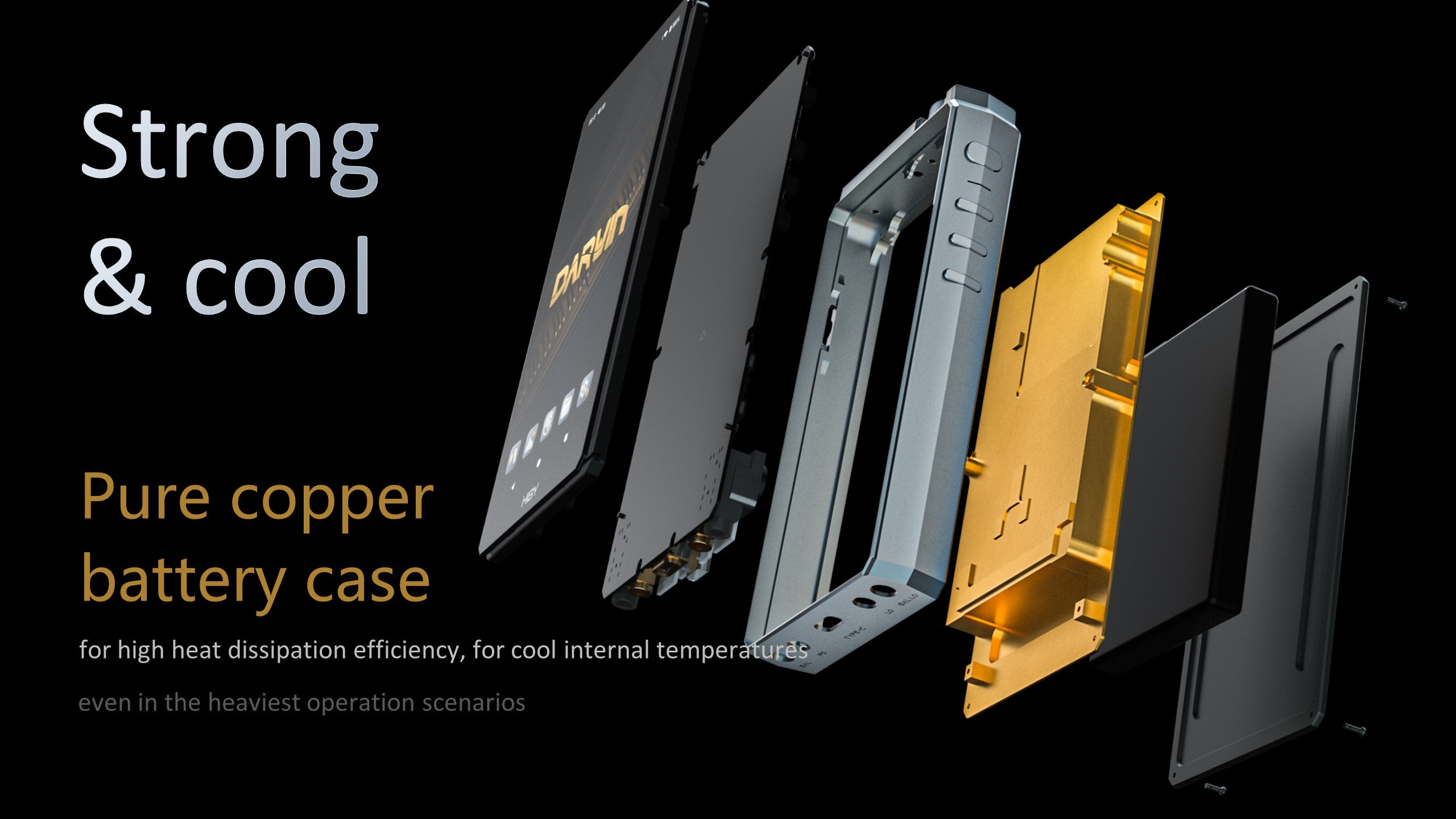 Pure copper heat transfer framework
To handle heavy usage scenarios, the RS8 has been custom fitted with a pure copper heat dissipating battery frame to quickly dissipate heat out to the chassis, ensuring reasonable internal temperatures even at high operating speeds and power!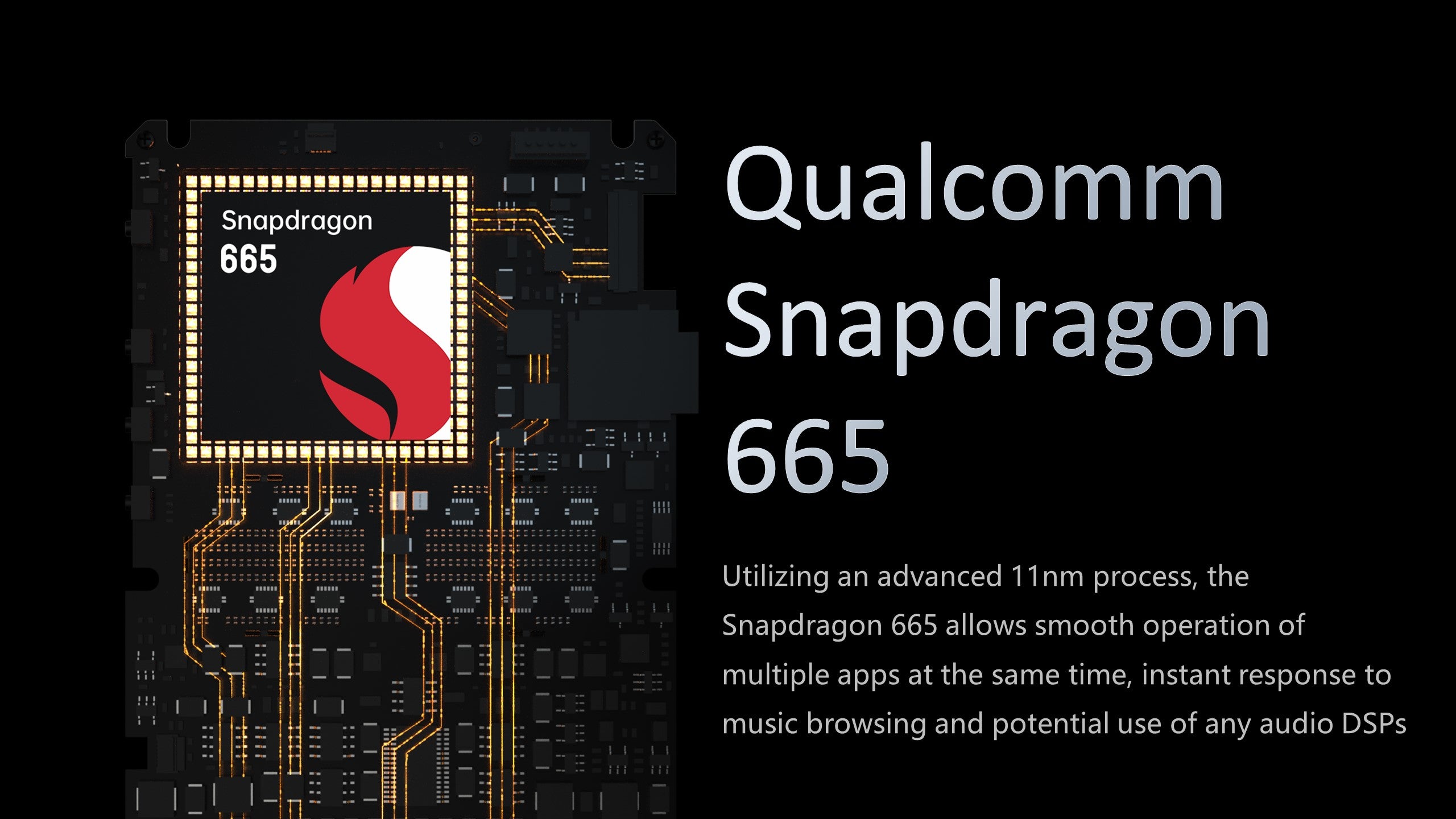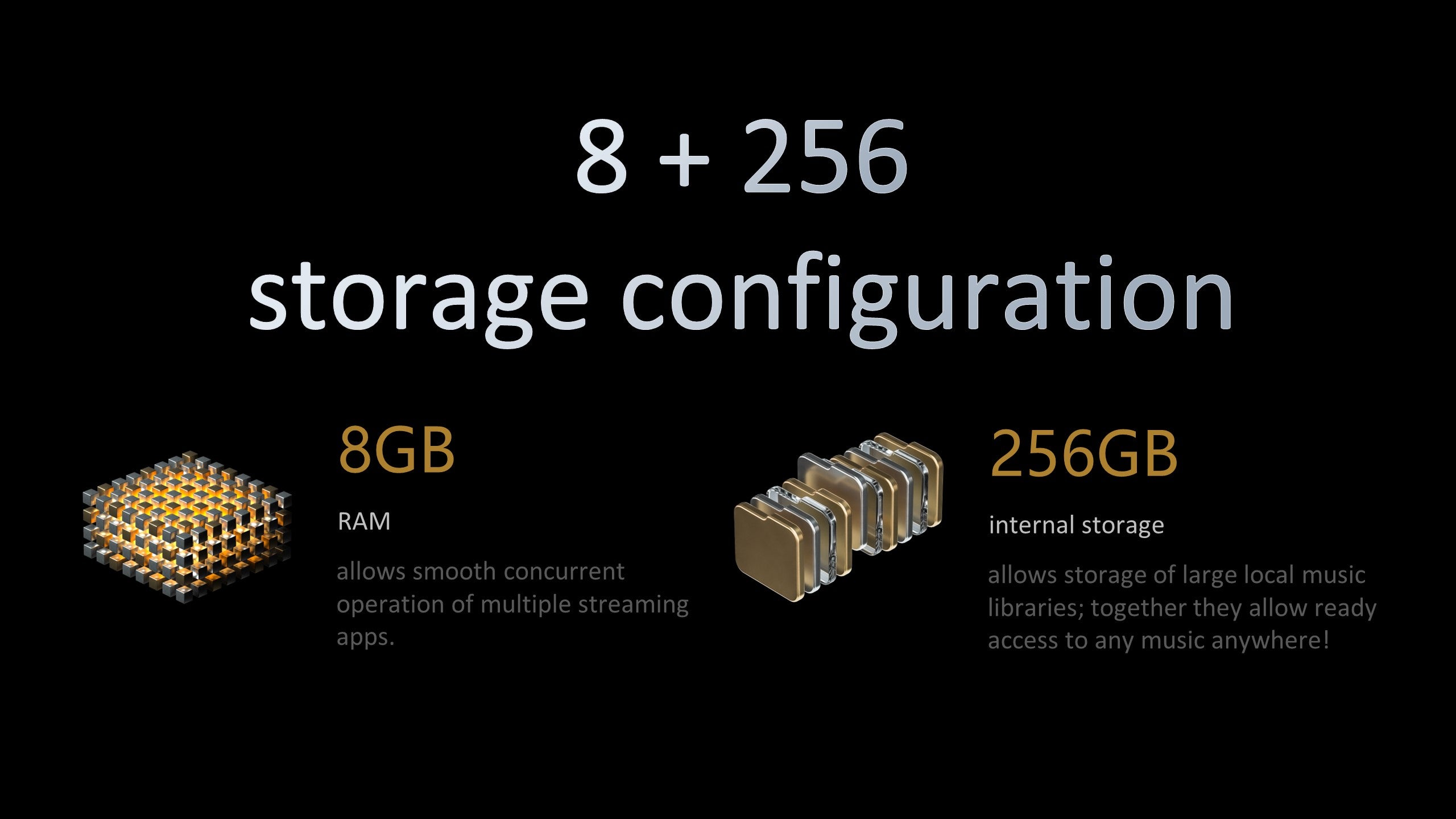 Qualcomm Snapdragon 665 onboard
8GB+256GB storage
The Qualcomm 665 SoC is employed, together with 8GB RAM and 256GB ROM. The ample processing power can be used to easily deal with and switch between multiple open and resident apps smoothly; the large onboard storage may be used to store large numbers of large music files, install streaming music apps and more besides.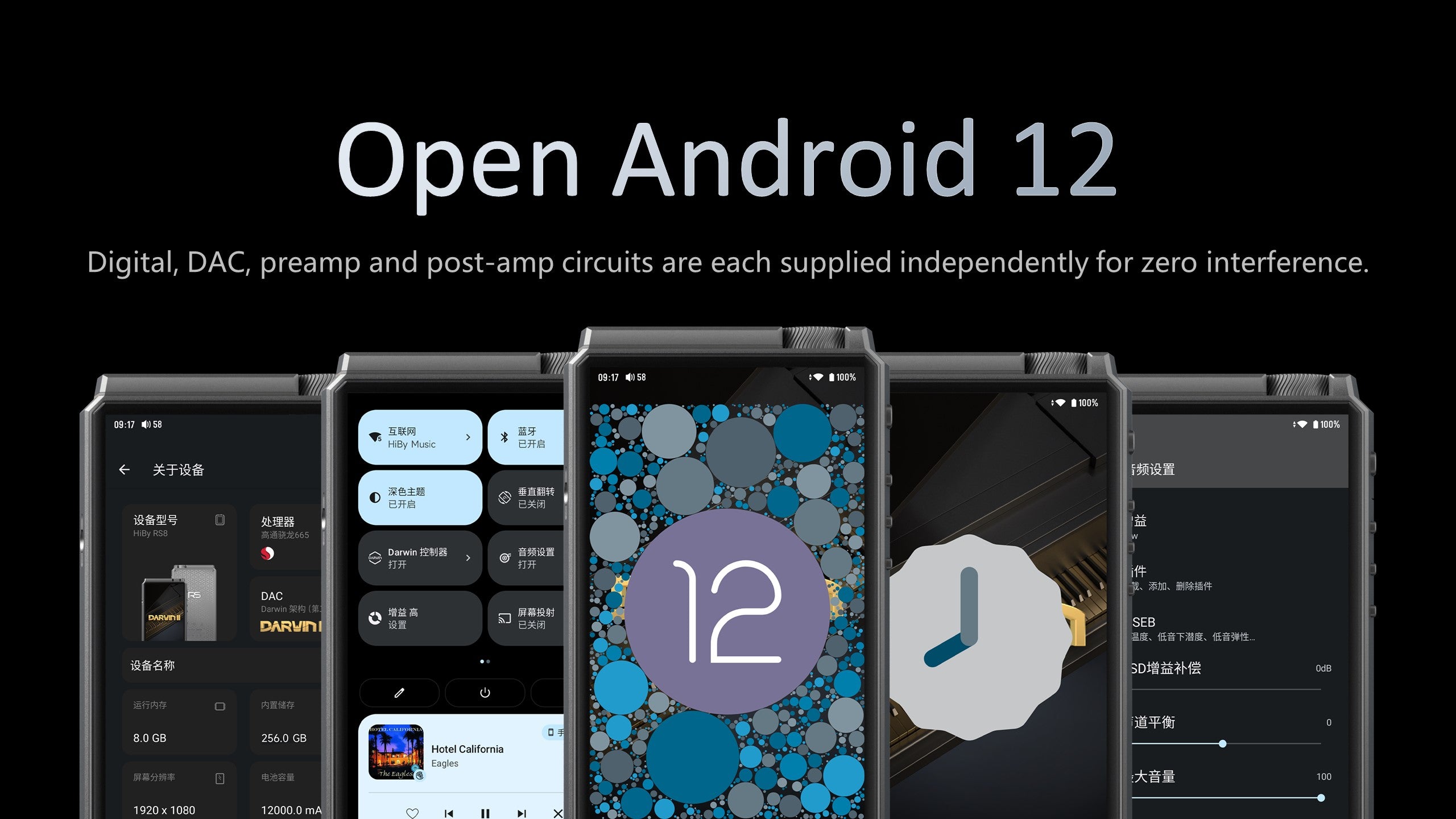 Open Android 12
The RS8 will be the first HiBy to sport Android 12, optimized for low latency and workload distribution, increasing the performance of system-critical processes, adjusting processing logic of background processes; the system kernel has also been redesigned to increase system smoothness and responsiveness and battery efficiency!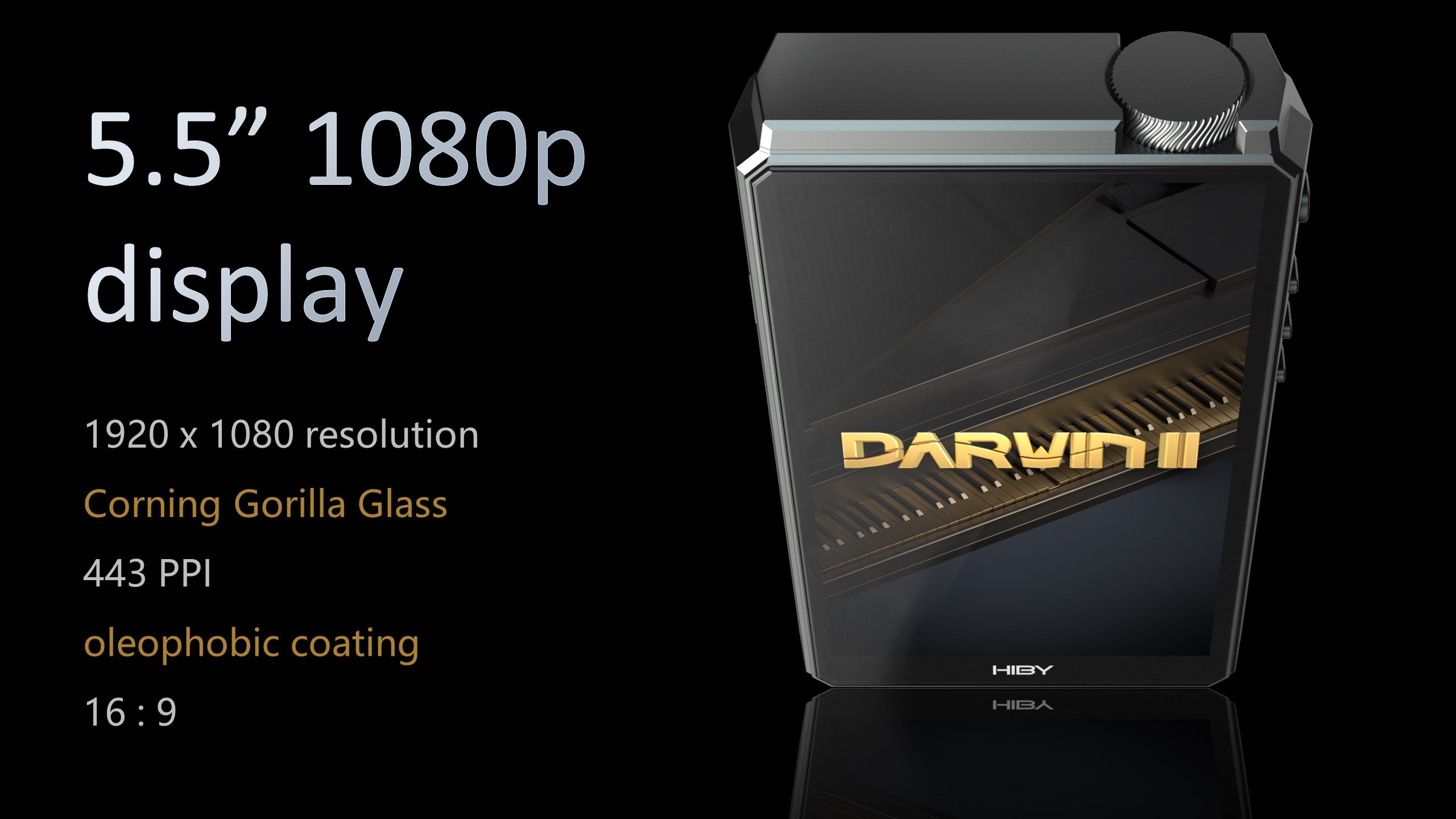 A great big view
16:9 5.5" 1080p display, 443ppi with Corning Gorilla glass and oleophobic coating.
The HiBy OS ecosystem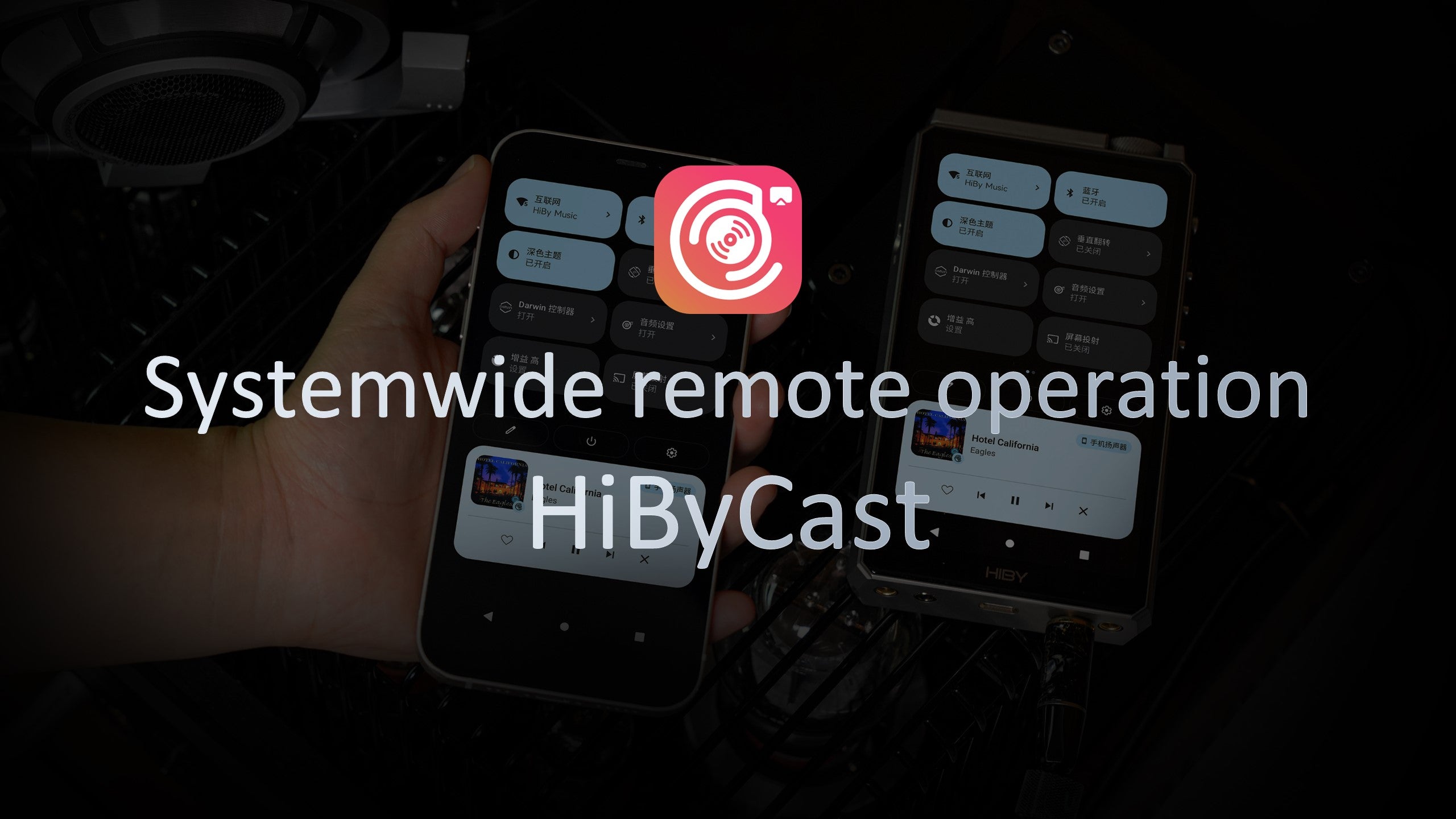 New HiBy app--HiByCast
HiByCast joins the HiBy OS ecosystem, also lending its power to the RS8 launch! Supports systemwide remote control of the R player, allowing smooth clear control of the R player from smartphones and tablets, not just of HiByMusic but all apps and system settings!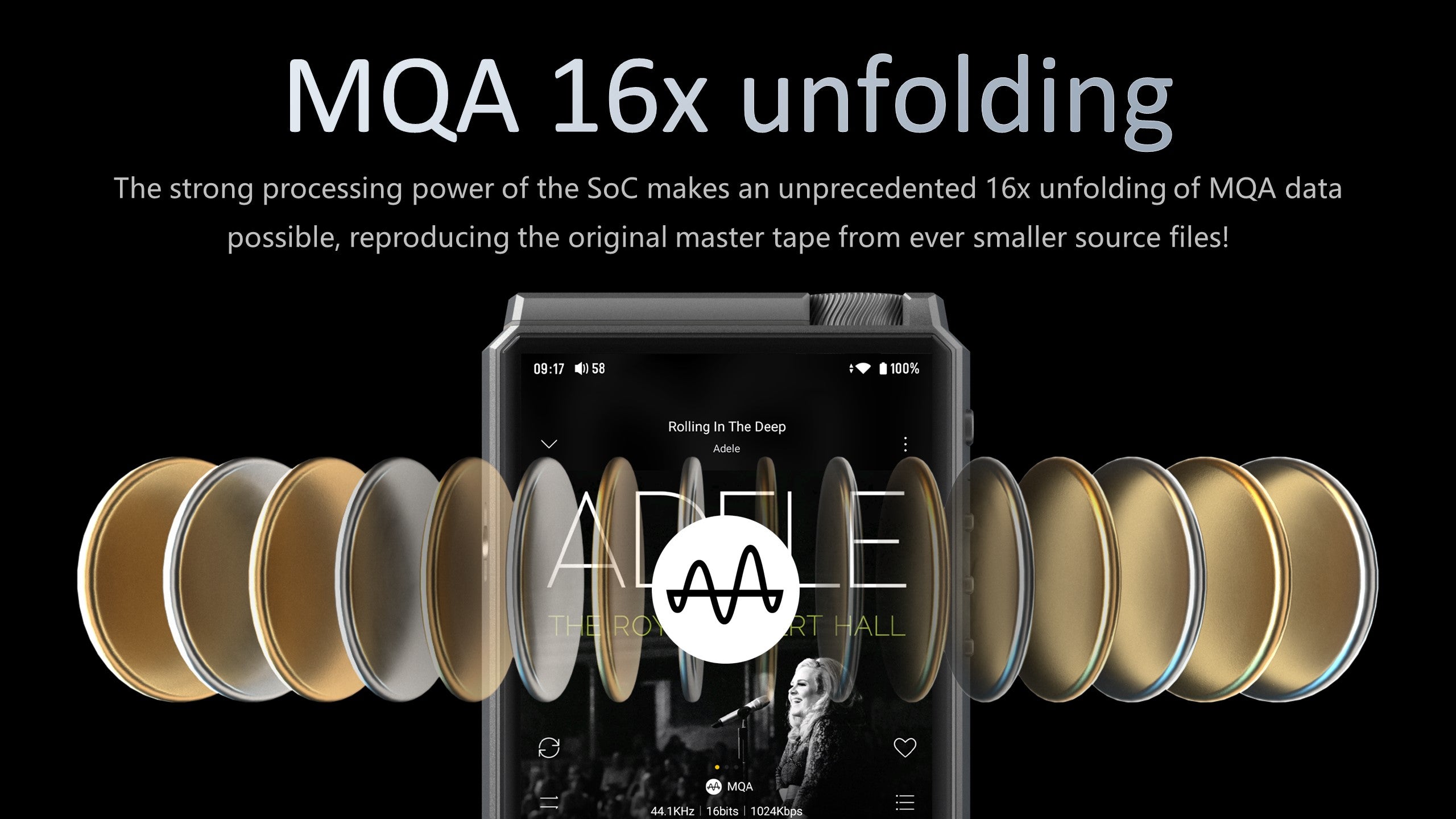 The HiBy OS on RS8 also includes familiar elements such as DTA for systemwide bitperfect audio and MQA 16x unfolding.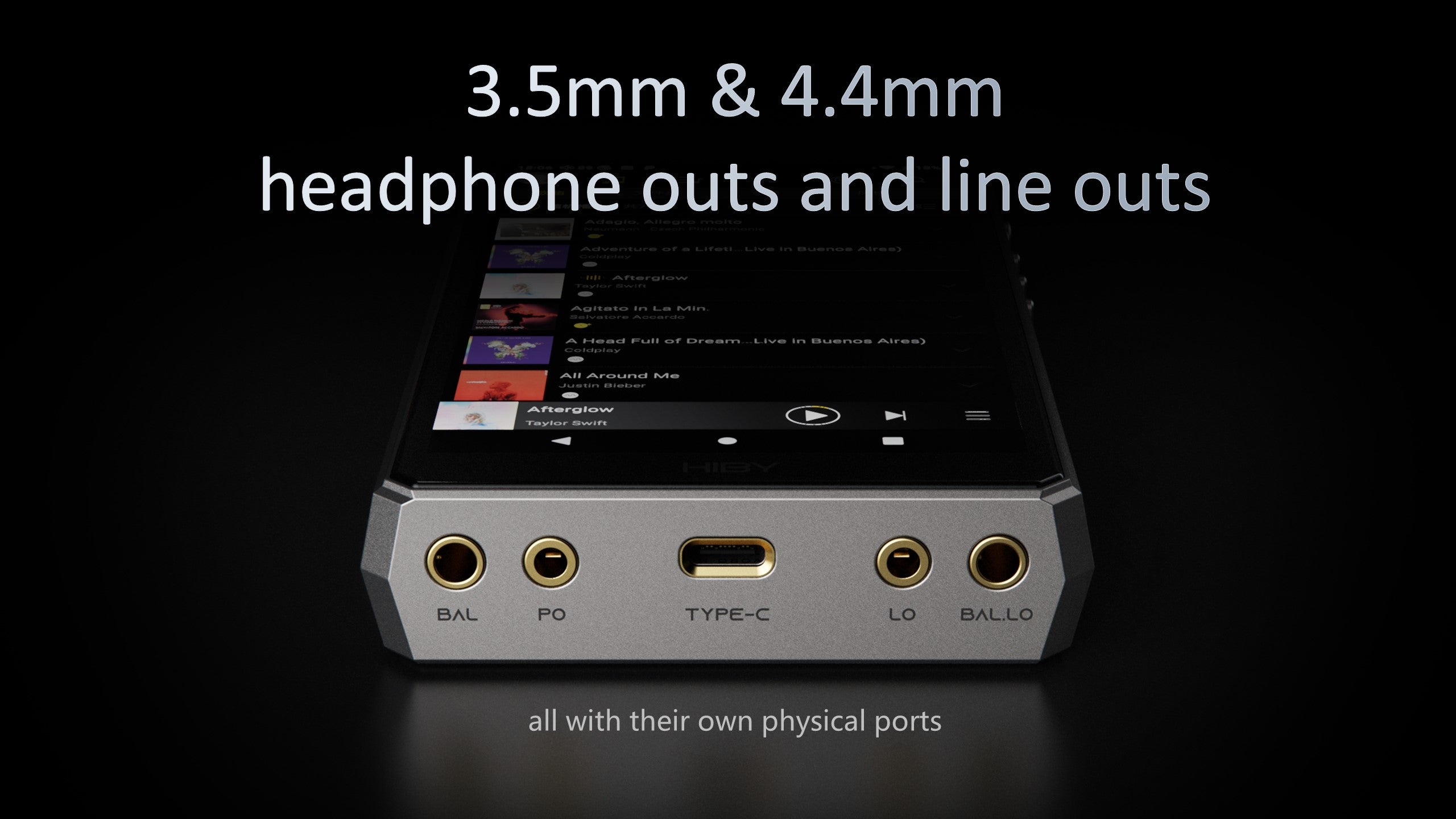 Dual independent line out and headphone outs
The RS8 preserves the R8's port scheme, including 3.5mm headphone out, 4.4mm headphone out, 3.5mm line out and 4.4mm line out, all with their own dedicated ports, all with independent volume memories.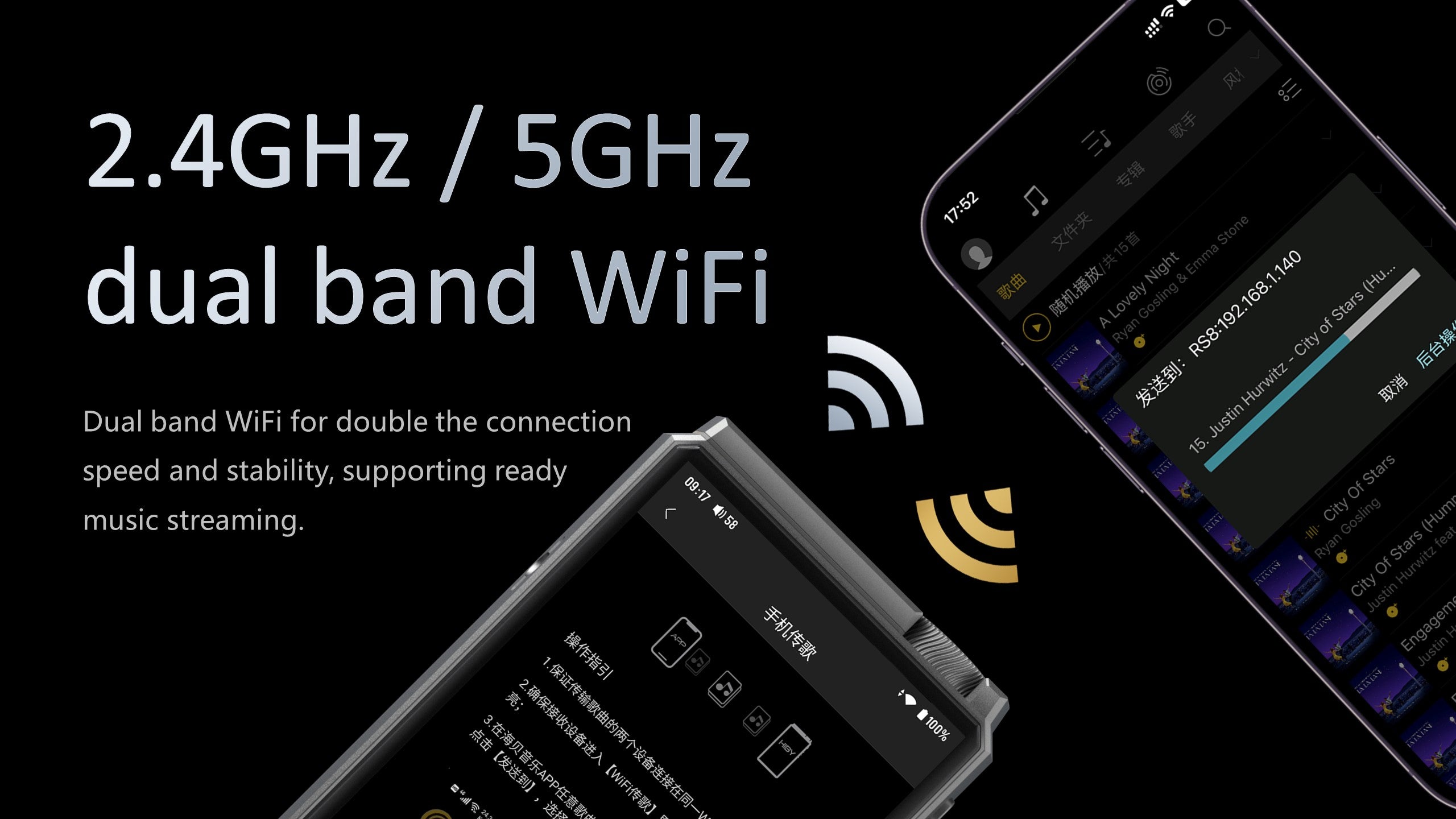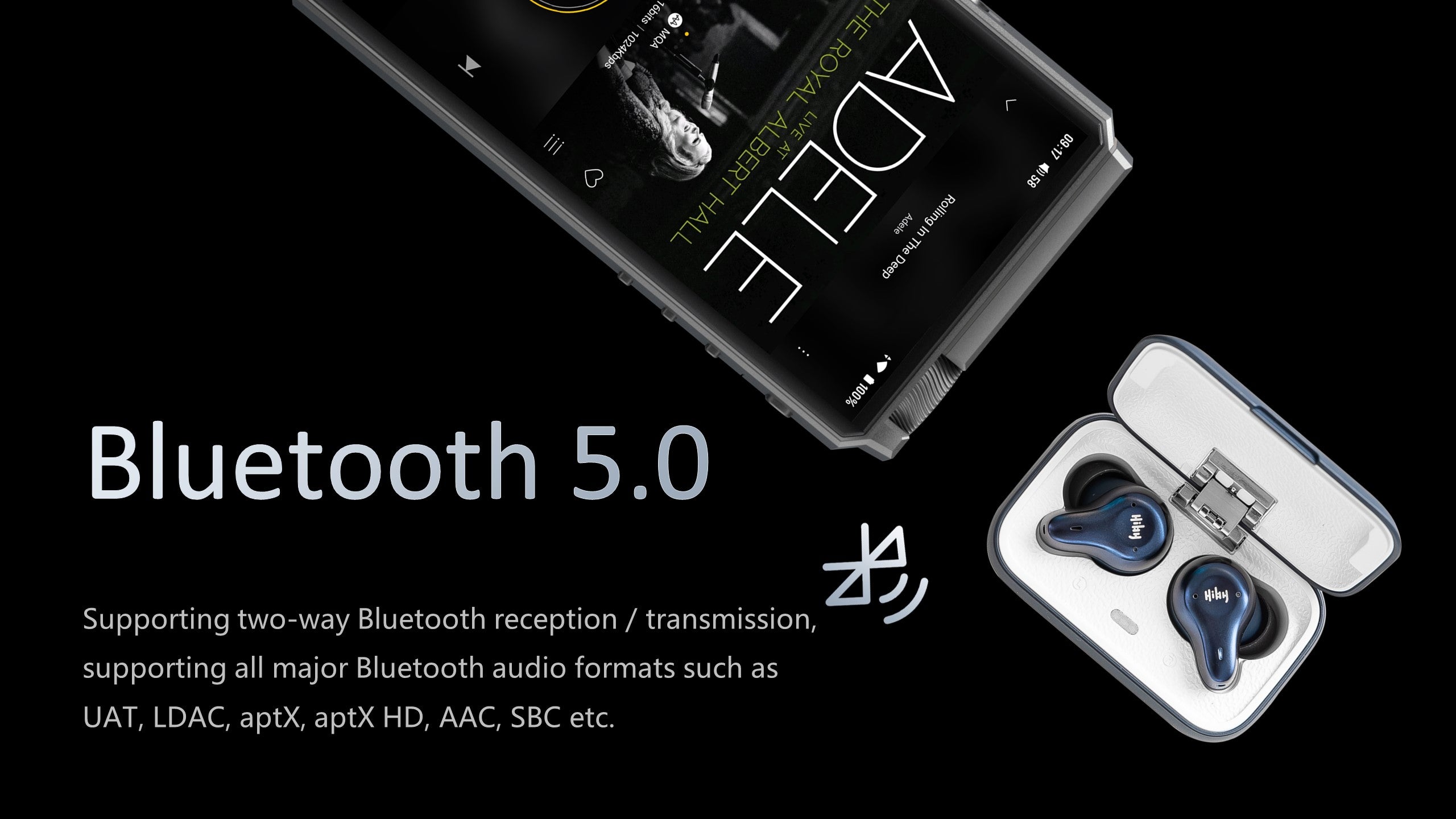 Wireless features
Supports 2.4GHz / 5GHz dual band WiFi, DLNA/AirPlay/WiFi music transfer; supports Bluetooth 5.0, supporting high-res Bluetooth codecs such as UAT, LDAC, aptX, aptX HD, AAC, SBC.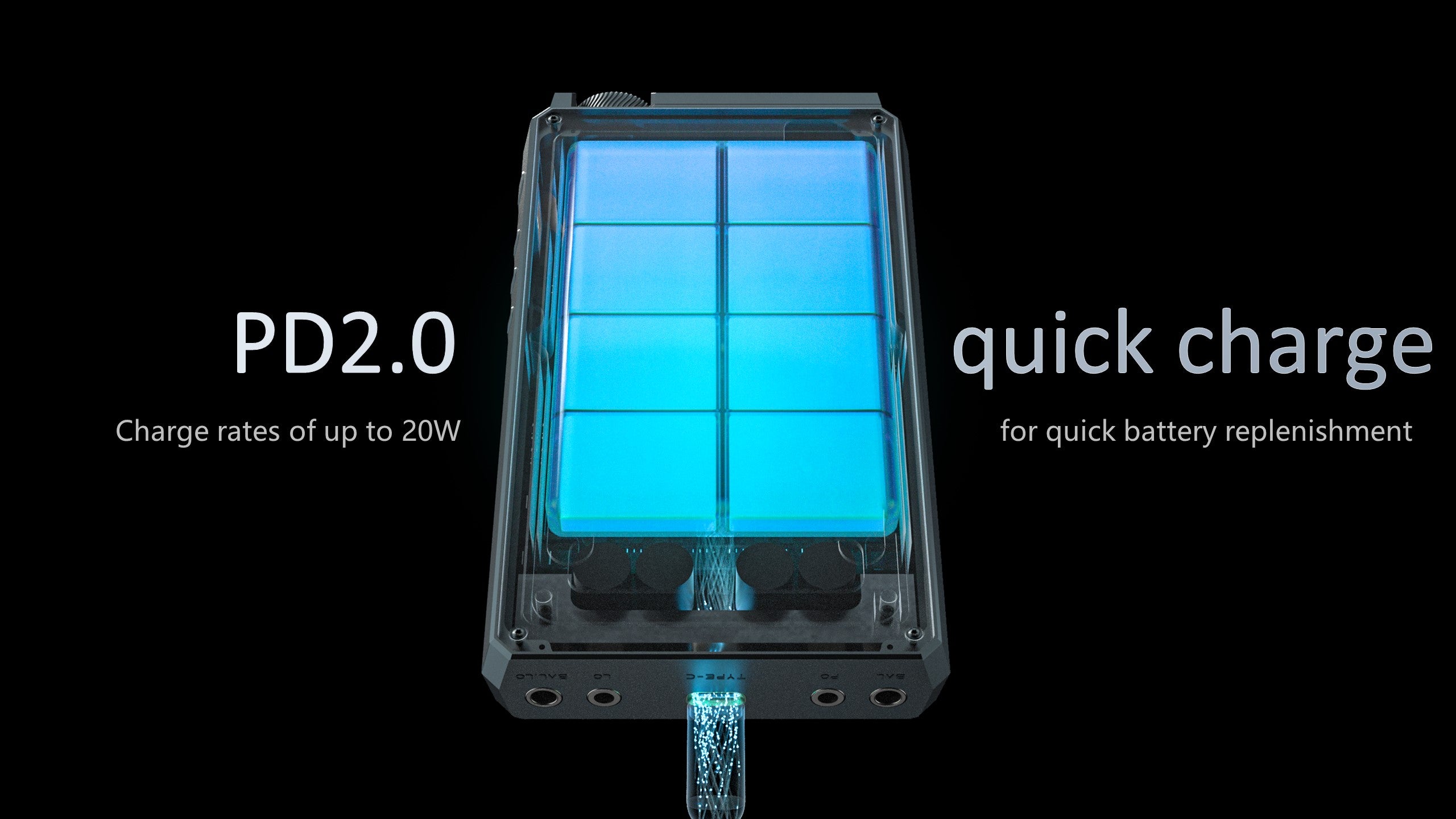 PD2.0 fast charge protocol
A 12000mAh battery of course needs fast charging for quick refills! The RS8 supports 20W fast charging using PD2.0, to enable fast recharging!
Audio specification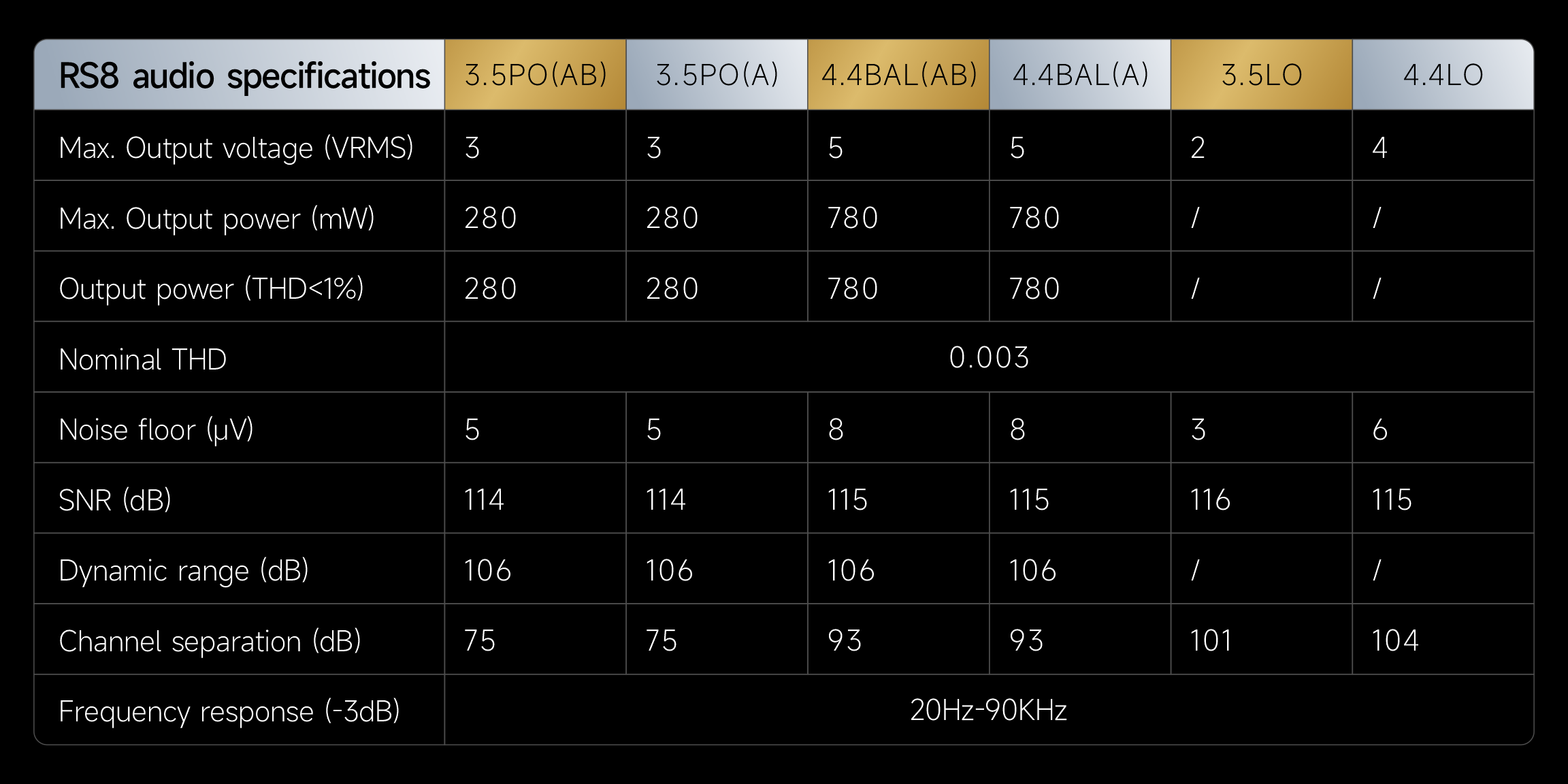 Early bird perks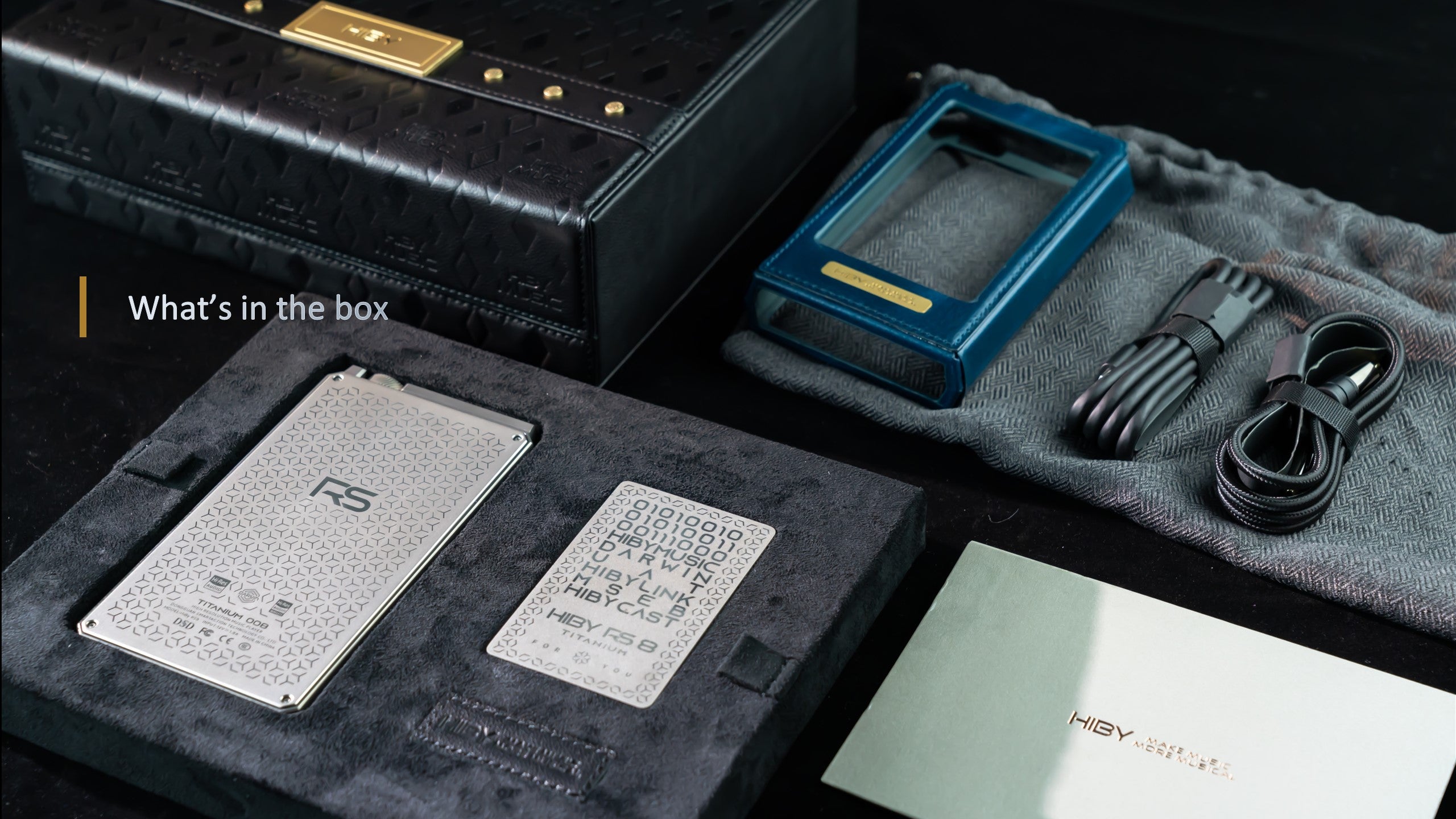 Pre-orders for the HiBy RS8 will open around November. The RS8 will be released to the market globally from November.